Breastival Vestibule by Rachael Shannon
Artist Statement and photos by Rachael Shannon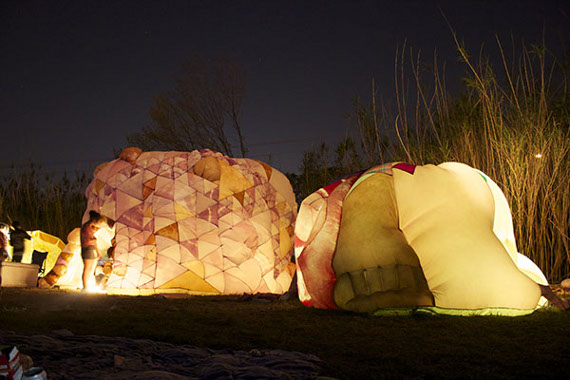 Participants Engage with Breastival Vestibule at the Creating Change Conference, Atlanta GA 2013. Nylon, air, assorted materials, 10′ x 10′ x 5.5′
Rachael Shannon – Artist Statement
Breastival Vestibule is born out of my own personal experiences of womyn-only and queer-specific spaces and communities. My experience as a member of the 500+ worker community at the 37-year-old Michigan Womyn's Music Festival has greatly affected my interest in my own practice of toplessness in public space. I find a specific dignity in engaging top-free amongst my community in daily activities such as building, cooking, celebrating, and convening. Each year I emerge from this temporary autonomous bubble with a sense of freedom and personal power celebrated in the joy of going topless in public spaces, such as a local swimming hole or beach. Simultaneously, this joy is curbed by a powerful frustration as societal norms, government laws, and the threat of unsolicited sexualizing of my body bear down on my sense of personal liberation.
This project specifically examines the practice of toplessness by women within and outside of mainstream society. 1970s feminisms gave birth to an explosion of utopian subcultures and practices. 40 years later, what does our current relationship to these movements have to show about our personal and cultural relationships to body? What does this articulate about sex and gender-based oppression and violence in the 21st Century? The work attempts to engage with these topics through a collection of responses to questions posed in workshops, interviews, and questionnaires.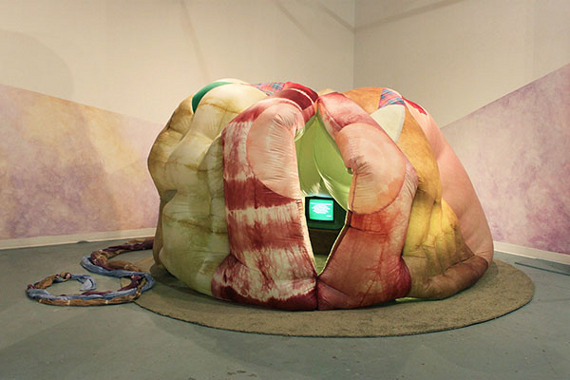 Breastival Vestibule #1, Installation 2013. Nylon, air, assorted materials, 10′ x 10′ x 5.5′
In architecture, a vestibule is a space between the indoors and the outdoors. It connects the outside world with the inside, creating a transitional space. Vestibules often have religious or ceremonial significance, marking a point of departure from the mundane world. Breastival Vestibule is an installation of inflatable architecture exploring the process of "re-entry". It considers the effects of societal norms that live inside each of us, and practices of resistance to both real and presumed limitations.
Artist's Biography
Rachael Shannon is alive. Art helps with this.
A self-identified native Texan queeirdo, Rachael's life adventures keep her oscillating between the roles of artist, organizer, teacher, participant, designer, business owner, project facilitator, and collaborator. Her creative involvement is motivated by the belief that art has the capacity to bring us in closer communication with ourselves and, in turn, to more authentic and infinitely spiritually expanding experiences with one another.
Rachael's practice tends to explore craft, architecture, personal mythologies, queerness, and community connection through whatever means necessary. She has a passionate reverence for the practice of art in everyday life and persists daily at keeping the dream alive.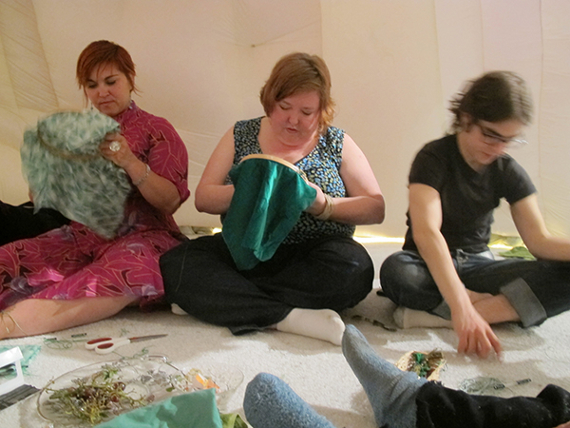 Visitors Craft Inside the Breastival Vestibule 2013. Nylon, air, assorted materials, 15′ x 15′ x 12′
Breastival Vestibule a Travelling Installation
The first iteration of the Breastival Vestibule installation (the small one) was in December 2012. Then Rachael Shannon took that to the Creating Change conference in Atlanta in January 2013. The first time she set up both the large and small one was outdoors for the GayBiGayGay Festival in Austin TX in March 2013. The first time she did the FULL interior installation was at D Center in Baltimore, March-April of 2013. She then installed them again for Transmodern Festival in Baltimore, May 2013.
Craftivism
In July 2013 Rachael Shannon will present a video about Breastival Vestibule at Craftivism in Brooklyn, New York. Craftivism is a queer arts and crafts exhibtion curated by Coral Short.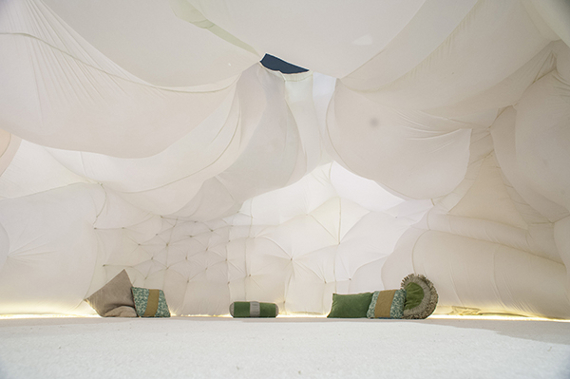 Breastival Vestibule #2, Interior 2013. Nylon, air, assorted materials, 15′ x 15′ x 12′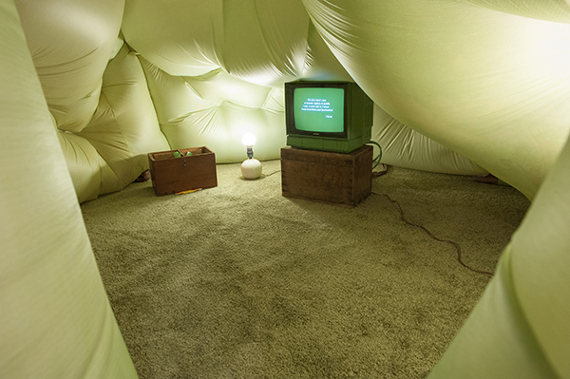 Breastival Vestibule #1, Interior 2013. Nylon, air, assorted materials, 10′ x 10′ x 5.5′
Related Links
Rachael Shannon's online portfolio
The official site of Breastival Vestibule
Visual and performance artist Tif Robinette will also take part in the queer exhibition Craftivism. See Tif Robinette's artist statement.
---
Tagged Artists in This Post:
---