Celebrating the Opening of Deborah Kelly's Queer and Feminist Exhibition 'Venus Envy'

Birthe Havmoeller and Deborah Kelly celebrating Deborah Kelly's new queer and feminist exhibition 'Venus Envy' at Kvindemuseet, Aarhus, Denmark.
VENUS ENVY by Deborah Kelly
May 24, 2017 – September 3, 2017
Kvindemuseet, Aarhus, Denmark
The Australian artist Deborah Kelly, who artist in recidency at Kvindemuseet (the Women's Museum) in May and June 2017, creates an group exhibition with the audience who she invites to take part in a series of free collage workshops during her stay in Aarhus.
Deborah Kelly's first solo exhibition in Europe opened yesterday. The title of Deborah Kelly's exhibition is Venus Envy. Venus Envy and the collage exhibition with works by her Danish students are both a part of the Aarhus 2017,  the Europen Capital of Culture 2017s cultural programme. The theme of Aarhus 2017 is to re-think sustainable development – cultural, human and economic growth – inspiring citizens to live, work and participate in new ways, both in their local region and in Europe. The organisers of Aarhus 2017 want to encourage people to participate in creative and cultural cooperation and exchange between people and organizations, something which people in Aarhus are very good at.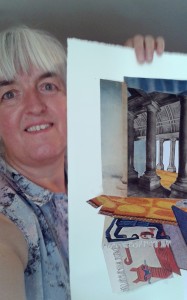 I joined Deborah's collage workshop and have spent two afternoons of intensive work. Deborah told us to find images/ objects in the stacks of old womens magazines from the 1940s and 1950s and old art books which were all around us, and start cutting pieces for a collage. It is a very intuitive process. And when one has pieces enough… an image or an idea will emerge and one can then start working on the composition. I am a fine art photographer and not used to cutting photos into pieces (!), so I was struggeling with the process and my collage, but three hours into the workshop I started to realise what my image was about and then I spent the rest of the workshop refining the details of the visual message of my collage. My work (see photo) is now on display at Kvindemuseet as a part of the above mentioned group exhibition which runs alongside Deborah Kelly's solo exhibition.
Deborah Kelly is a queer and feminist artist who is questioning gender, power and privileges. She reconsiders our understanding of visual imagery and our cultural heritage. She uses well-known and popular-cultural motifs in her works, and with her unique collage technique she creates a new iconography which is often both beautiful and disturbingly queer. In the exhibition Venus Envy, she re-interprets the central figure of Western art: the female nude.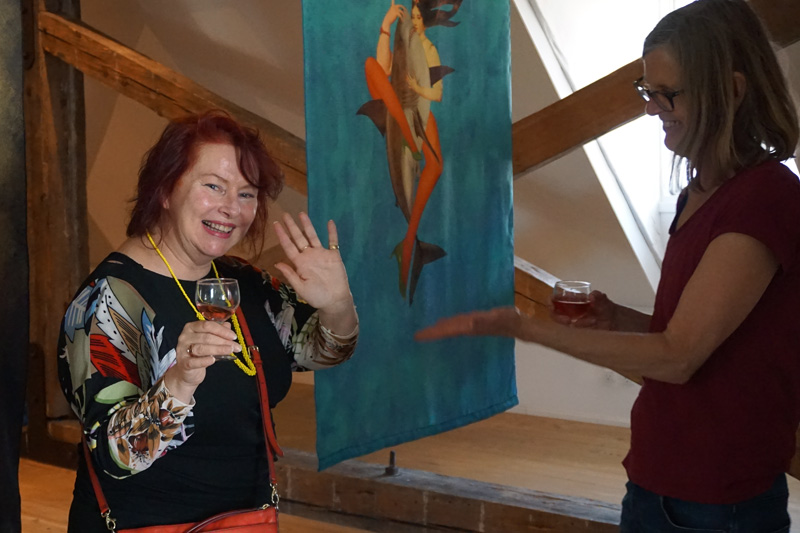 Deborah Kelly at the opening of her exhibition Venus Envy.
In the exhibition at Kvindemuseet she present her series Venus Variations from 2015 (printed on silk), which features a series of hybrid collages where the famous images of the Roman goddess Venus are merged with contemporary images from advertisements, fashion magazines and books. Her amazing works, printed on silk, are both queer and feminist. The exhibition also features Deborah Kelly's stop motion animation film Lying Women (2016), which a short film made with from images from discarded art history books. For this film project Deborah Kelly has collected hundreds of printed paintings of classic female nude models.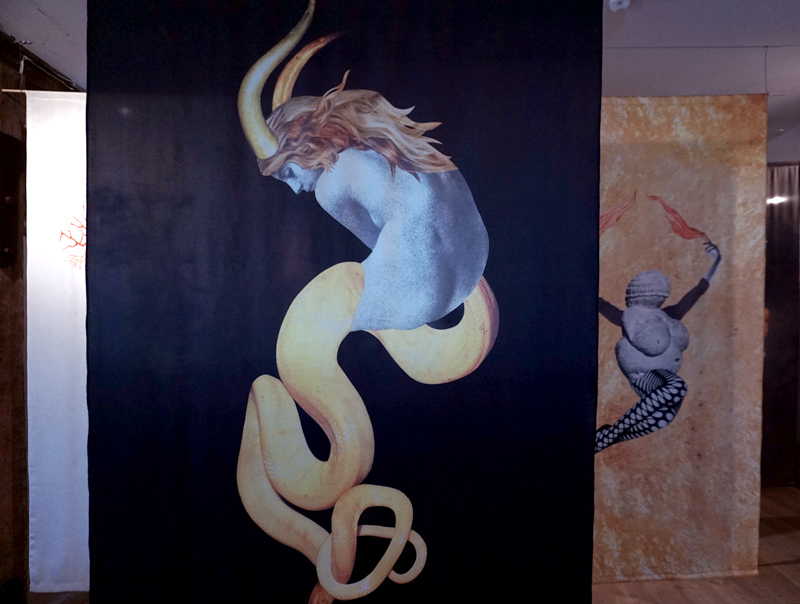 Exhibition view, Kvindemuseet, Aarhus Denmark. Works by Deborah Kelly, 2017.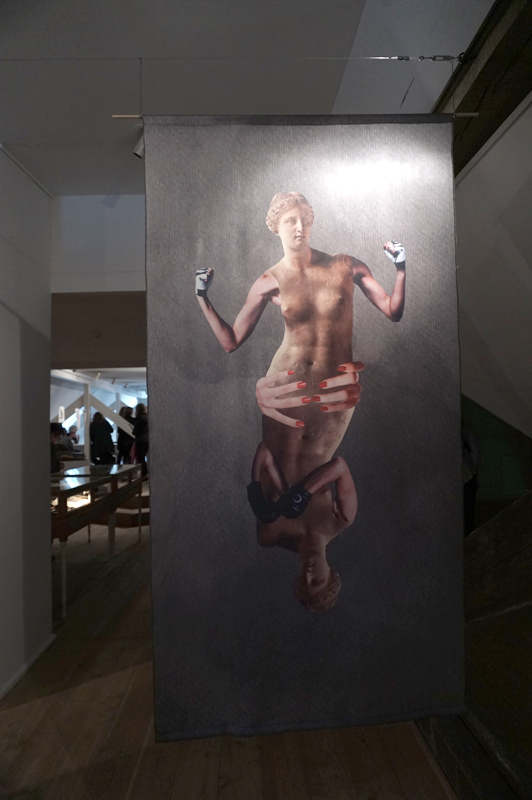 Exhibition view, works by Deborah Kelly, at Kvindemuseet, Aarhus, Denmark, May 2017.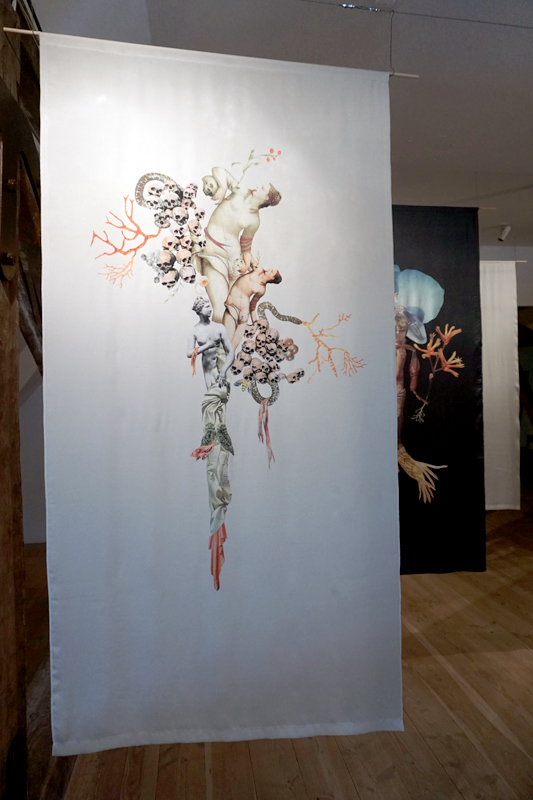 Exhibition view, works by Deborah Kelly, at Kvindemuseet, Aarhus, Denmark, May 2017.