Cerebral Spaces – A Queer Exhibition By Jessica Burke
Jessica Burke is a queer American artist. She was born in the middle of the United Stats in Wichita, Kansas. She is currently living in Salem, Oregon. Jessica received her Master of Fine Arts degree from the University of North Carolina in 2005, and is now an Assistant Professor of Art at Western Oregon University, where she teaches all levels of drawing courses. Jessica's art is about queering popular culture. She explains: "I became interested in gender and its translation during graduate school in 2003. It has continued to be a subject that engages me academically and artistically because there is such an emphasis placed on the divisions of gender in my culture. I have had the experience of living in cities with large queer communities but Salem, Oregon is unfortunately not one of those cities. I think this is why it is even more important to continue making the work and trying to get it seen by as broad an audience as possible."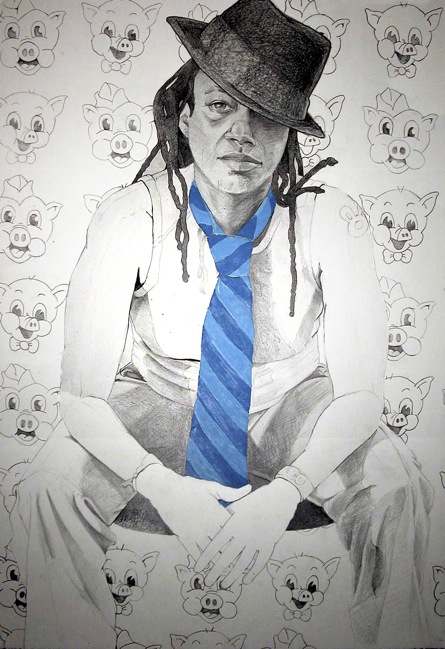 Who's Afraid of the Big Bad Wolf?, Graphite and Acrylic on Paper, 26 x 40″, Cerebral Spaces, Jessica Burke 2009
Cerebral Spaces And Artist Lecture
The exhibition 'Cerebral Spaces' by Jessica Burke opens on November 19, 2009 at Lane Community College Gallery, 4000 East 30th Avenue in Eugene, Oregon, USA., with an artist lecture at 2:00pm followed by the opening reception. Cerebral Spaces is a show with both drawings and paintings. All the images included in this article are from the show. See more of Jessica's works on her new website – www.jessicaburkeartist.com.
Artist Statement By Jessica Burke
"This body of work [Cerebral Spaces] is a meditation on identity that seeks to portray figurative allegories of gendered experience. The layered images combine graphic elements, objects and traditionally modelled figurative work in order to clarify the influence of popular culture that has operated as a teaching tool in the development of my personal ideology.
My work has been heavily influenced by the theoretical idea that all gender is a cultural construction. The images explore this conceptual construction though the environments that surround the figure, which represent a cerebral space that underscores the gender performance as the focal point of the work. Gender is habitually performed and it is not binary, living only in terms of masculine and feminine. We are constantly bombarded with the embedded associations of popular culture's imagery. They operate as a teaching device, telling us what to think, how to look, and what to believe.
My work can be read as a stream of consciousness chronicling my evolving definition of "acceptable" femininity within the spectrum of gender. When facing the challenge of translating that definition, there had to be an inherent struggle between the expectations given to us by popular culture and the reality of the mundane. The conflict between the constructed environment and the formally observed protagonist is what ultimately drives the work. Only by honestly addressing the fractures caused by this conflict, can we begin a dialogue and subsequent action that can initiate a broader understanding and acceptance."

Gender Outlaw, Mixed media on Mylar, 12 x 16″, Cerebral Spaces, Jessica Burke 2009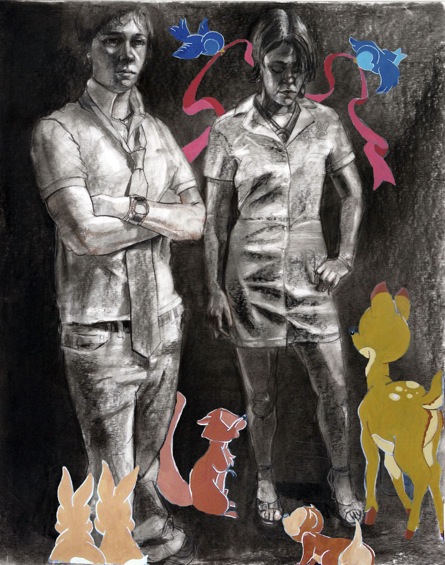 Dissolution of a Fairy Tale, Charcoal and Gouache on Bristol, 18 x 24″, Cerebral Spaces, Jessica Burke 2009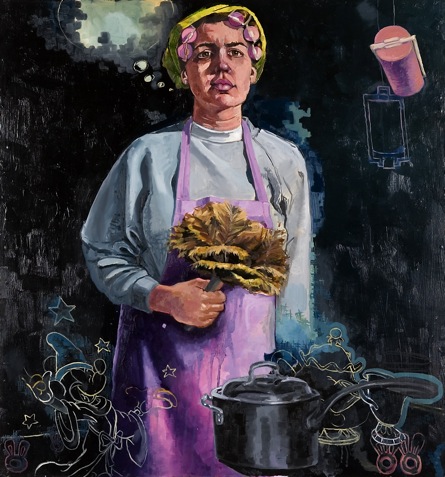 Somebody Lied To Me, Oil on Panel, 35 x38″, Cerebral Spaces, Jessica Burke 2009
Related links
On Jessica Burke's blog you can find updates for her exhibitions and summer workshops in drawing and painting.