DGLFF Awards Best Documentar​y to DIFFICULT LOVE
Congratulations to visual activist Zanele Muholi and co-director Peter Goldsmid!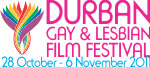 Based on the audience voting slips during the festival in the category of DOCUMENTARY, the production Difficult Love has won the audience award for BEST DOCUMENTARY at DGLFF 2011 in Durban.
See The Documentary Difficult Love Online
In 'Difficult Love' Zanele talks about her work as a photographer and queer activist, and we see her at work making her portraits of lesbians for the photography book Faces and Phases. She explains in the film that she is making images that speak to her, images that show her community and document her community: the black lesbians in the townships of South Africa. – If you want to enjoy this great documentary online please see this post : Audience Award to Zanele Muholi's Film Difficult Love (about the another award, which Difficult Love received earlier this year) for details about how you to watch this video online.