Ester Fleckner: A closet does not connect under the bed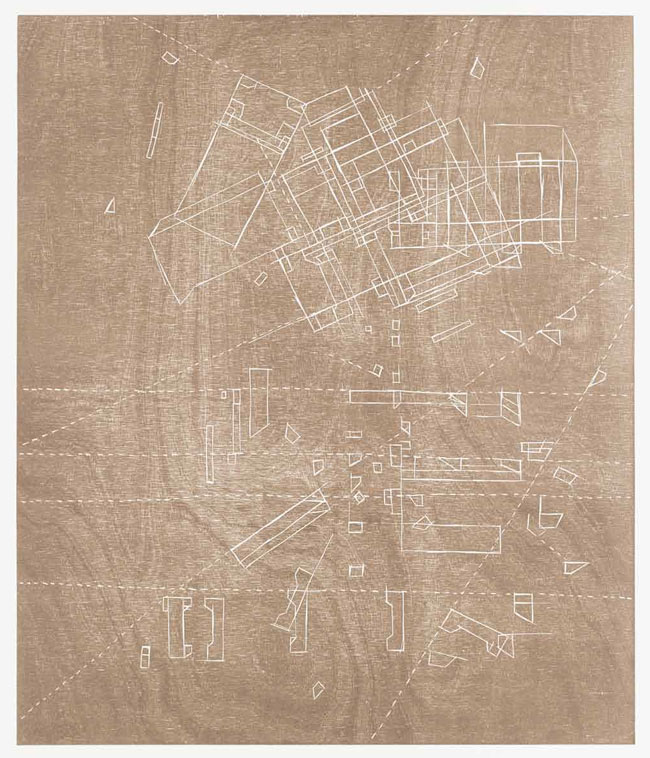 A woodcut print by Ester Fleckner
Ester Fleckner: A closet does not connect under the bed
January 23 – March 13, 2016
Overgaden – Institut for Samtidskunst
Overgaden neden Vandet 17
DK-1414 København K, Denmark
Opening: January 22, 2016, 5-8pm.
An investigation of the closet as metaphor and physical object is the point of departure for Ester Fleckner's first major solo exhibition at a Danish art institution. The title of the exhibition is a quote from the famous American writer Gertrude Stein's playful poem A Substance in a Cushion in which she almost manically reels off and dissects sensory impressions, conveying them in an impressionistic and sensuous language. 'A closet does not connect under the bed' is not at first glance a sentence that makes sense.
Ester Fleckner's interest in the relationship between language and physical objects started during her studies at the art academy. Working with the traditional artistic craft of woodcuts, her works include the series Clit-dick Register (2013), establishing a sign language for sexual characteristics that mutate, blur and transform, and Wooden Scripts (How I love your obscure) (2015) in which a small star-shaped symbol multiplies to generate a hermetic yet clearly chronologically developed vocabulary. A central element in Fleckner's work is that the crafting process and the errors and traces that emerge during it are neither erased nor corrected, but are instead used as a starting point for new approaches, paths and possibilities. Her woodcuts almost always have added fragments of pencil-written sentences and drawings as extensions of or interventions in the motif. Meanings and contexts are suggested and negotiated, but continue to evade definition.
In the exhibition A closet does not connect under the bed on the first floor of Overgaden, Ester Fleckner presents a series of prints all based on a graphic deconstruction of closets. The closet has a culturally defined form and purpose; a closed structure to store – and maybe hide? – things. But perhaps this form for storing things can itself be dissolved and literally turned inside out. In Fleckner's woodcuts, the familiar shape of the closet disintegrates, and with their ingenuous and complex forms the prints emerge as imaginatively wild blueprints for closets that in the process of their construction actually cease to be closets. By extension, Fleckner's focus on the closet as a structure can also be seen as a metaphorical commentary on and exploration of the closet – as boxes that define and confine us, but which can also be reconceptualised and transgressed.
Alongside the woodcuts Fleckner exhibits a series of concrete sculptures – all casts of elements of old wooden closets. Identifiable yet unfamiliar, they clearly express the juxtaposition of the industrial and anonymous with the carefully crafted and personal dimensions of the woodcuts.
Ester Fleckner (b. 1983) lives and works in Berlin. She graduated from the Royal Danish Academy of Fine Arts in 2013, and also studied at Goldsmiths University of London. Fleckner has previously exhibited at Avlskarl Gallery in 2015 and C4 Projects in 2014.
Related Link