Heidi Lunabba: "Twins"
Press Release by Heidi Lunabba, Finland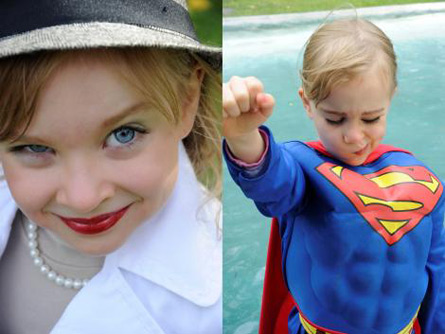 Photo from the series Twins by Heidi Lunabba
Heidi Lunabba: Twins
16.3 – 22.5.2011 Finnish Museum of Photography, Process Space, Helsinki, Finland. Opening: March 15, 2011 at 5–7pm. The artist will be present. Welcome!
(…) Entry to the exhibition is free.
Clothes make the man – but what about the child?
Visual artist Heidi Lunabba's series of pictures taken in workshops investigates how clothes and other visual emblems are used to accentuate and define a child's gender. Each child at a workshop has been photographed as both a girl and a boy, and the two pictures have been digitally merged into a single image to make "twins".
The starting points for the work are fashion shots from the children's fashion magazine Vogue Bambini, which the exhibition's curator, Annamari Vänskä, PhD, analyses in a non-fiction work to be published this spring Kuviteltu lapsuus. 'Näkökulmia lapsuuteen visualisoituneessa
kulutuskulttuurissa' (Imagined childhood. Viewpoints on childhood in visualized consumer culture). The fashion photos accentuate the way that children are often dressed as little adults. When a child's gender is not yet clearly visible in its face and manner, it is "announced" via clothing choices.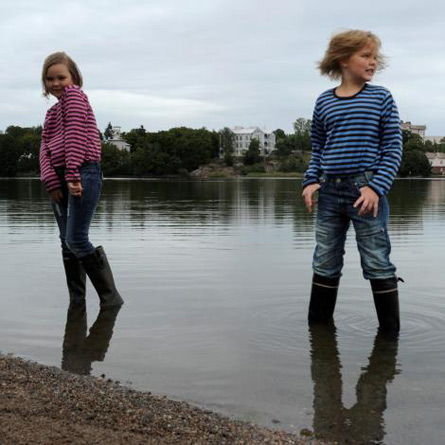 Photo from the series Twins by Heidi Lunabba
In the workshops 3-12-year-old children were able to take on the roles of a girl and a boy with the aid of a professional make-up artist. Thus, in the pictures we also see their own conceptions of the differences in the presentation of the genders. The workshops were bilingual (Finnish and Swedish), and were held at the Finnish Museum of Photography in collaboration with the Blaue Frau theatre group.
Meet the Artist and Curator on Wednesday 6.4.2011 at 17.30
The artist Heidi Lunabba [b.1977] and curator Annamari Vänskä, Visiting Research Fellow at the Centre for Fashion Studies, University of Stockholm, will talk about the exhibition. Free entry.
Meet the Artist on Sunday 22.5.2011 at 14:00.
The artist Heidi Lunabba will talk about the exhibition. Free entry.
The exhibition is accompanied by Finnish and Swedish language workshops for school children and adults.
Further details: http://www.valokuvataiteenmuseo.fi/ 
Exhibition blog, where you [i.e. children] can send your own twin photo: inartproject.info > Do
The exhibition will also be shown at Museum Anna Nordlander Skellefteå, Sweden in summer 2011.
Further information:
Artist Heidi Lunabba +358503493029, heidi@lunabba.com
Related Links
http://www.heidilunabba.com/