Henriette Hellstern – 'Das Narrenhaus'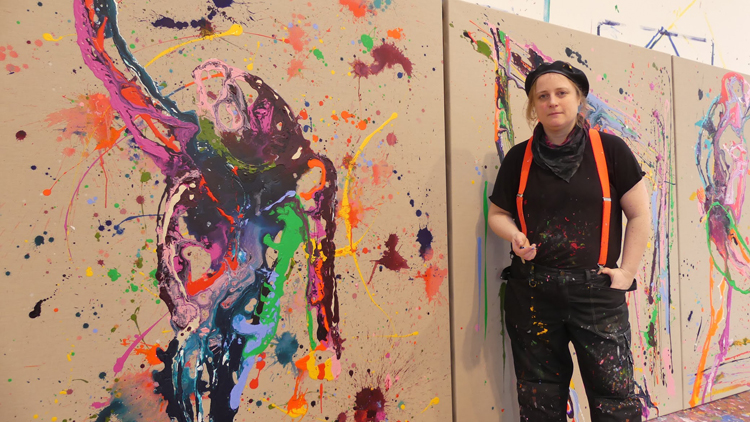 Henriette Hellstern in her Amager studio, Copenhagen 2019.
Henriette Hellstern – Das Narrenhaus
Solo exhibition at Gallery NB, Sankt Mathias Gade 14, Viborg, Denmark
Opening: August 25, 2019
Dates: August 26 – September 22, 2019
Publication: a catalogue, Das Narrenhaus – A series by Henriette Hellstern, (2019)
.
Medical science, guinea pigs, authority, power, gender and personal histories are analysed by the award-winning artist, Henriette Hellstern on August 25, when her exhibition Das Narrenhaus opens. The local history of Viborg is central to Das Narrenhaus because 142 years ago it opened an institution for the "dregs of humanity" as it was called.
From the Anatomy of the Body to the Anatomy of the Mind
In her Copenhagen studio there is a creative mess of bulky bodies and serious faces, as the artist works to uncover body and mind. The Voices that were asked NOT to speak or hidden in shame are embodied, highlighted and set free. The myths surrounding the mental hospitals as well as their patients are reinterpreted and presented on the canvases. The concept of Normality is being scrutinised. The frustration about the fact that powerfull men could have their wives admitted, if they were "too hysterical", and the fact that most of the lobotomy patients in Denmark were female are just as inspiring to the artist as nightmarish images of people in the cells, fixated in fool boxes, hospital beds and trapdoors, are channeled to us. The artist works with a kind of pure energy, a narrative style without boundaries, inviting the viewer into her universe, so that you can take a look inwards, so to speak.
Das Narrenhaus is also the story of being marginalised and misunderstood. In her childhood in Eastern Jutland the artist felt different. Needing a psychologist was a complete no-no, those who needed help in the local community were being looked down on. Something the artist got to feel herself when she suffered from social phobia and a severe depression. Understanding and care did not exist. And when she came out as a lesbian too, even though this was 18 years after the National Board of Health had removed homosexuality from the official list of mental disorders (1981).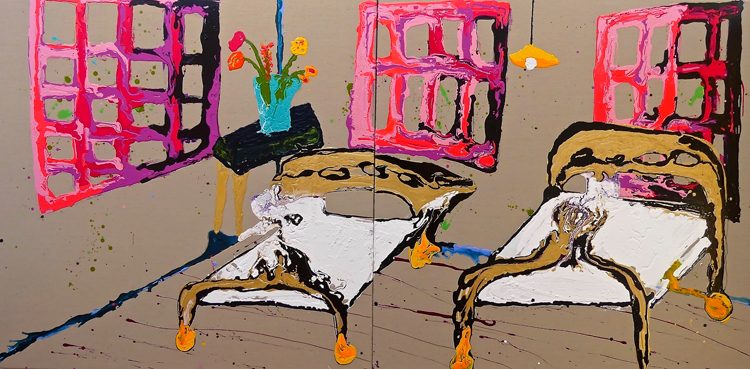 Stue 79 (Room 79) by Henriette Hellstern. Painting 150×300 cm.
Canvases as Mirrors
Objects from Viborg's chief physician Carl August Gads office feature on the paintings, as well as the famous writer Tove Ditlevsen's beloved living room at Sct. Hans Mental Hospital; an empty hospital room with almost living furnitures, and the doctors António Egaz Moniz, Pedro Lima and Walter Freeman, who invented the lobotomy treatment for mental disorders in 1935 and the further development of lobotomy, have also gained a space on the walls of the gallery.
I think I have become an expressionist, as working with true feelings every day is a necessary thing for me to do. It was taboo as a child, but today I can tell the present in-depth stories through this technique, says Henriette Hellstern adding this particular thing: to talk about things via art is important to me. I think we can bridge differences if we can communicate, and what's better than art for creating images about the the words we can't say?
About Henriette Hellstern
Originally, the Copenhagen-based queer feminist painter Henriette Hellstern is from East Jutland. She has a MFA from the Funen Art Academy, 2011. She is a successfull artist with group exhibitions in New York, San Francisco, Florence, Sofia, Berlin and Copenhagen, and a large solo exhibition Lucidity in Vilnius, Lithuania, 2016, Das Narrenhaus being her eight solo exhibition.