HOPE & FEAR by Charlotte Haslund-Christensen in Beijin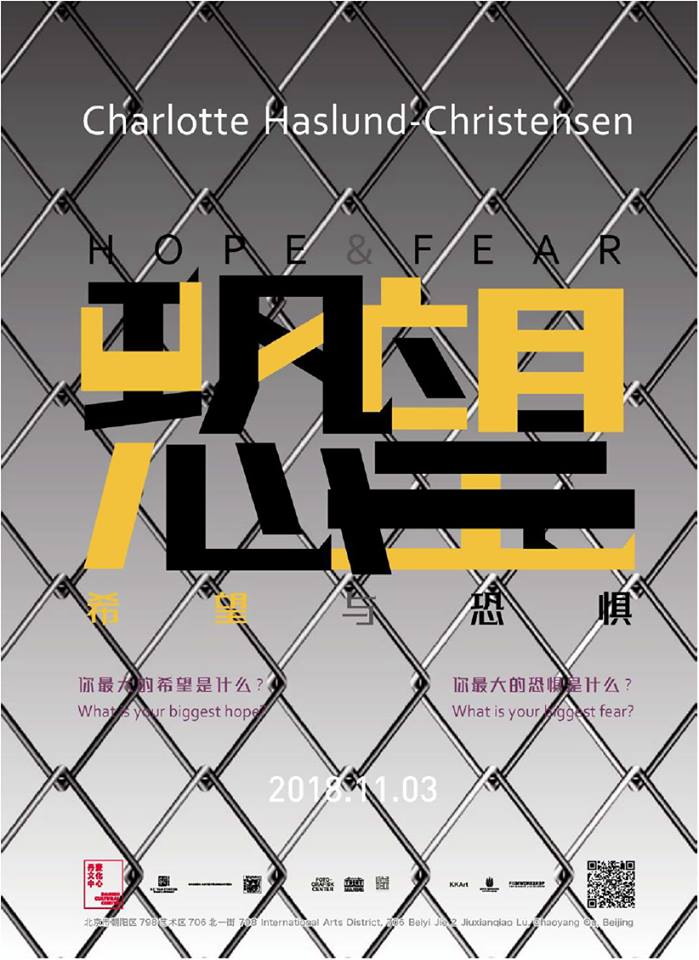 Poster
Artist Talk about HOPE & FEAR
On Sunday November 10 at 15.00 hrs. Charlotte Haslund-Christensen will give an artist talk in Danish Cultural Center in 798 International Arts District, Beijin, China.
HOPE & FEAR opened in Danish Cultural Center, Beijing, on Saturday November 3, 2018. Watch a teaser for the video installation here: https://vimeo.com/189925512
HOPE & FEAR is a large-scale global video project by Danish artist Charlotte Haslund-Christensen featuring people from 6 continents. People on the streets – teachers, street hawkers, policemen, artists, priests, children, teenagers, parents and grandparents – all speak directly to the viewer. Each of them answers the same 2 questions:
'What is your biggest fear?' and 'What is your biggest hope?'
In the multiple screen installation their answers create a chorus of voices from South America, Asia, Africa, the Middle East, Europe and North America. HOPE & FEAR is an appeal to global solidarity, community and mutual respect. Celebrating dialogue and participation, HOPE & FEAR is based on interviews on the streets of Beijing, Buenos Aires, Cairo, Copenhagen, Dar es Salaam, New York and Ulan Bator.
Artist Statement
Charlotte Haslund-Christensen says, my work is motivated by the drive to question cultural stereotypes and investigate the mechanisms of defining the self or nation in opposition to 'the Other'. This includes challenging the role of the media in framing and creating prejudices and minorities. HOPE & FEAR gives people the chance to have a voice. In HOPE & FEAR they speak out. My biggest hope is that they also speak to each other.
Charlotte Haslund-Christensen
Charlotte Haslund-Christensen is a photography and video artist based in Copenhagen. Her artistic practice operates at the intersection of anthropology, documentarism and social interaction. She has exhibited extensively both in Denmark and abroad, including New York, Paris, Pingyao, Warsaw, Helsinki and Casablanca. In her art project Who's Next (2013) questions the legal rights issues for sexual minorities by framing portraits of LGBTQ people as police "mugshots", and in har art project Natives: The Danes (2008), she presents Danish people in the tradition of colonial explorers photographing "natives". Several of her art projects have been published in book form.