In Conversation: Jonathan Lyndon Chase & Sharon Hayes
Video (57:35): in this webinar queer artists Jonathan Lyndon Chase and Sharon Hayes in conversation with each other about their works presented in the exhibition 'New Grit: Art & Philly Now' at Philadelphia Museum of Art, August 2021. Sharon Hayes' presentation starts at 19:15 min.
About the Speakers
'Jonathan Lyndon Chase takes on issues of race, gender, and sexuality in paintings, drawings, and installations that celebrate Black male queerness, and in doing so centers those who have gone unseen in the history of art.
Sharon Hayes creates video works and installations, blending a documentary style with the fictional and the speculative. Since her involvement in New York City's performance scene during the peak of the AIDS epidemic in the early 1990s, she has collaborated with queer-identifying and feminist cultural workers such as artists, poets, and academics.' – Philadelphia Museum of Art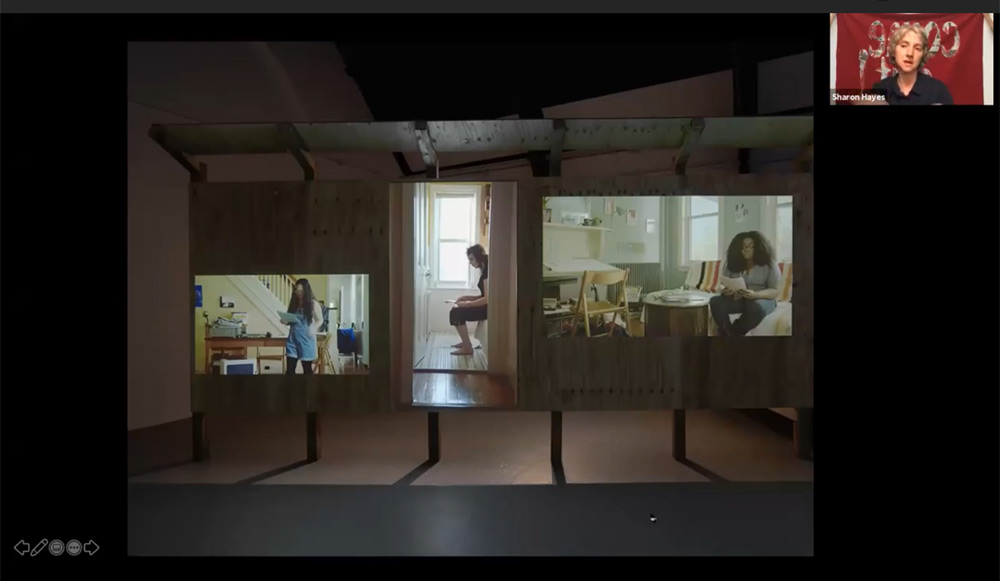 Video still from Sharon Hayes' presentation.
[The copyright of the video above remains with the original holder and it is used here for the purpose of education, comparison and criticism only.]