London – A Day of Queer-feminist Ecocriticism and Visual Cultures
Press release by Cuntemporary.org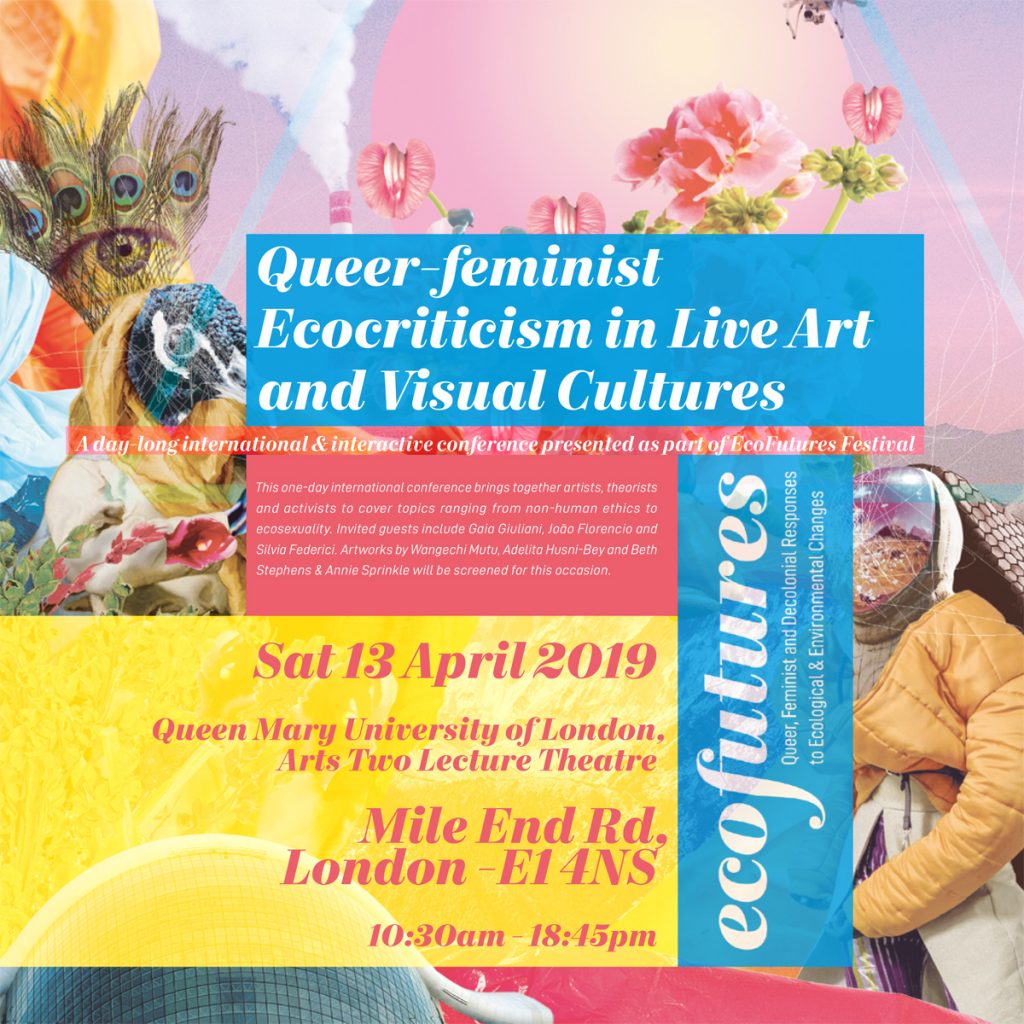 Programme cover
Queer-feminist Ecocriticism in Live Art and Visual Cultures
@ Queen Mary University of London, Arts Two Lecture Theatre
Mile End Rd, London E1 4NS
Sat 13 April 2019 / 10:30am – 7:00pm / £3
This one-day international conference [organised by Cuntemporary.org] brings together artists, theorists and activists to cover topics ranging from non-human ethics to ecosexuality.
Invited guests include Gaia Giuliani, João Florencio and Silvia Federici. Artworks by Wangechi Mutu, Adelita Husni-Bey and Beth Stephens & Annie Sprinkle will be screened for this occasion.
You can [download a pdf with] the full programme below and read more information on each of the artists.
Full programme:
10:30-11:00 – Registration
11:00-12:30 – Non-Human Ethics and Xenopolitics
Featured artists: Rita Natalio, Wangechi Mutu, The End of Eating Everything, 2013. 8mins (video screening), Ama Josephine Budge, Gaia Giuliani, 20 minute Q&A
12:30-13:45 – Walk to the gallery 'Staring at the Sun' exhibition accompanied by performance by Liam Geary Baulch + public showcase of Quimera Rosa open lab & talk in the gallery
13:45-15:00 – Lunch break
15:00-16:30 – Sexing the Planet: Performing Ecological Intimacies
Featuring: Isabel Burr Raty, Beth Stephens & Annie Sprinkle, Ecosexual Wedding Project, 2008-2014. 10mins (video screening) and João Florencio. 20 minute Q&A
16:45-18:45 – Repair, Resist, Revitalize: New Synergies in the Anthropocene
Nadja Verena Marcin & Helena Hunter. 15 minute Q&A
Adelita Husni-Bey, The Reading, 2017. 15mins (video screening) and Silvia Federici. 15 minute Q&A
19:00 – 20:30 Drink Reception
This conference has been generously supported by the Doctoral College Initiative Fund at Queen Mary University, Arts Council England, the British Association for American Studies & the U.S. Embassy in London and the Tower Hamlets Events Fund.