London – 'Ken. To Be Destroyed' by Sara Davidmann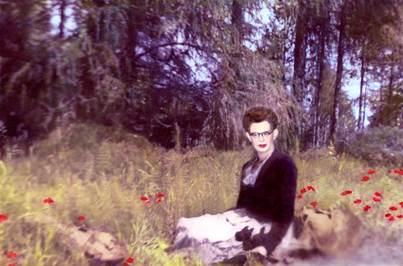 Ken. To Be Destroyed by Sara Davidmann
February 17 – March 24, 2017
Upper Gallery, London College of Communication, Elephant and Castle, London SE1 6SB
The Ken. To be destroyed exhibition by Sara Davidmann comes to London College of Communication after its successful six month showing in 2016 at the Schwules Museum in Berlin. The exhibition is part of the Moose on the Loose Biennale of Research at the London College of Communication.
The Ken. To be destroyed project began with an archive and a discovery. Artist/photographer Sara Davidmann and her siblings inherited letters and photographs belonging to her uncle and aunt, Ken and Hazel Houston, from their mother Audrey Davidmann. The letters tell the story of the relationship between Ken and Hazel. Hazel had been a dental secretary. Ken practiced as an optician in Scotland. It emerged soon after they were married that Ken was transgender. In the context of a British marriage in the 1950s, this inevitably profoundly affected both their own relationship and their relationships with the people around them.
During the making of the 'Ken to be Destroyed' book Sara Davidmann and Professor Val Williams (PARC) created an archive which preserves and describes the process of creating the book and the Schwules Meuseum exhibition. This archive will be on display in the PARCspace. The archive contains letters, photographs and papers. Hazel and Audrey wrote to each other frequently in the late 1950s and early 60s,after Hazel discovered that Ken was transgender; these letters tell Ken and Hazel's very private story. Publicly Ken was a man, but in the privacy of the home he was a woman.
The Ken Project Archive
Private View, refreshments and short talk: Tuesday 7 March 4.30-7pm
Exhibition open: Open on Tuesdays from 12-2pm, other times by appointment
Times: 12-2pm
Venue: Archive Room, PARCspace, Room W224, London College of Communication, Elephant and Castle, London SE1 6SB