Marianne Strøm A Member of 'Skeive kunstnere', The Queer Artists, Oslo Norway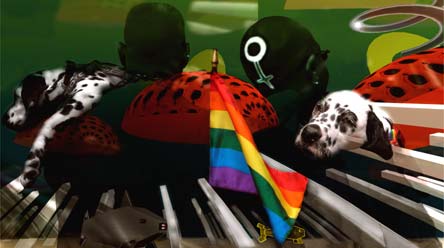 'Reality' by Marianne Strøm / Arm Strom
Marianne Strøm (alias Arm Strom) is a lesbian Norwegian. She is a mixed media artist, who lives in Oslo. She has sent the following statement to Feminine Moments:
Since EuroPride in Oslo 2005, I have exhibited together with the group 'Skeive kunstnere' (Queer Artists). During 'Skeive Dagar 2009', the Oslo Pride festival, we had a group exibition at Rådhusplassen (the Townhall square) and at four public libraries in Oslo.
The group "Skeive kunstnere" includes both professional contemporary artists, amateurs and up-and-coming talents. We identify as "Queer", because we have something in common as artists and as members of a minority.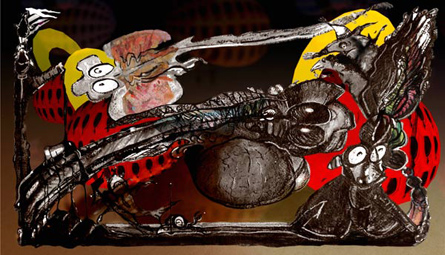 'Yngel' (Fry) by Marianne Strøm/ Arm Strom
For the last year I have depicted fish and "subsea scapes" in my art.  I have used my photos, ink drawings and acrylic paintings, in combination with snapshots of objects, which I have constructed in "Second life", a 3d social community.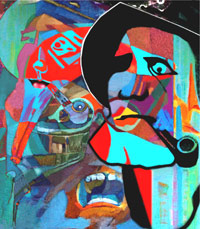 I do like the atmosphere under water in some virtual environments. The freedom, the weightlessness and lights. My images are also comments to the Norwegian proposals about drilling for oil in vulnerable ocean areas, – for example in the sea near Lofoten and Vesterålen, north of the Arctic circle.
Related Links
Marianne Strøm's videostream at YouTube
Skeive kunstnere
'Mask' (right) by Marianne Strøm / Arm Strom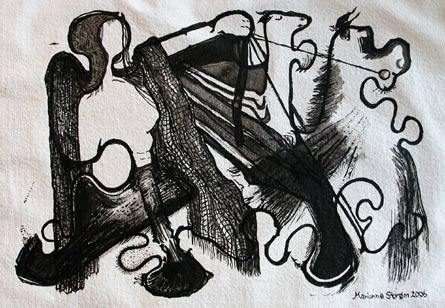 'Puzzle' by Marianne Strøm / Arm Strom.