New Eyes on Alice Austen – a Round Table Discussion
Press release via the newsletter 'Leslie-Lohman Recommends'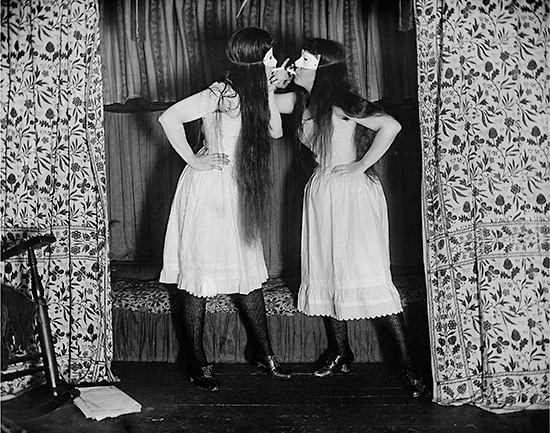 Photo: 'Trude and I Masked' (1891) by Alice Austen (1866 – 1952).
Alice Austen House presents:
NEW EYES ON ALICE AUSTEN
Mar 31, 7-8:30 pm
Whitney Museum of American Art
99 Gansevoort St., New York, USA
Five scholars will discuss the street photography and charged domestic imagery of the early American photographer Alice Austen (1866-1952). From their perspectives in a variety of fields, they will address major themes in Austen's life and work, including the New Woman, professional versus amateur hotography, gender roles, same-sex relationships, immigration, and New York City history. The discussion will also bring to the forefront the loving and devoted relationship between Austen and her life-long companion, Gertrude Tate.
The panel is comprised of: Lillian Faderman, Lesbian and LGBT historian, and author of The Gay evolution; Sarah Kate Gillespie, Curator of American Art at the Georgia Museum of Art, University of Georgia; Richard Meyer, Robert and Ruth Halperin Professor in Art History at Stanford University; Lara Vapnek, Associate Professor of History at St. John's University; and Laura Wexler, Professor of American Studies, Professor of Women's, Gender, and Sexuality Studies at Yale University. The discussion will be moderated by independent museum consultant and art historian, Denise Rompilla.