Over the Rainbow
Excerpts from the museum's press release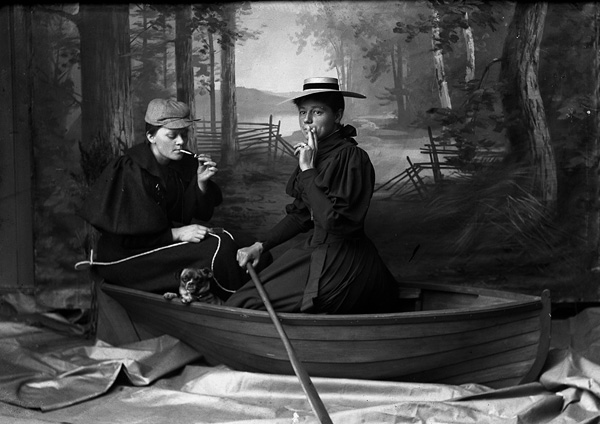 Marie Høeg and her partner Bolette Berg in one of their own photos from the period 1895-1903.
Over the Rainbow
at Preus Museum — Norway's National Museum of Photography
Kommandørkaptein Klincks vei 7
Karljohansvern, NO-3183 Horten
May 28 to December 31 2022
Curator: Hilde Herming
Preus Museum is celebrating the Queer Cultural Year with the exhibition Over the Rainbow. The exhibition is based on private photographs in the museum's collection originally belonging to the women's rights activists and photographers Marie Høeg (1866—1949) and Bolette Berg (1872—1944). Preus Museum finds itself in a unique position because photography has had, and still has an entirely central place in staging, documenting and experimenting with the concept of identity. The exhibition juxtaposes historical and contemporary works across generations and show a range of genres from documentary photography to portraits and video works.
Marie Høeg and Bolette Berg
The private photographs of Marie, Bolette, and their friends were not meant for public viewing at the time they were taken and seem more playful than controversial to audiences of today. This says a good deal about how the boundaries of what is regarded as acceptable or conventional change according to the place, time, and space.
Everyone has three lives: a public life, a private life and a secret life
The exhibition examines such topics as how photography is used to explore gender identity, stereotypes, and the body as subject and object.
The Artists are:
Bolette Berg & Marie Høeg (NO), Gladys Bentley (US), Claude Cahun (FR), Imogen Cunningham (US), Loïe Fuller (US), Rocky Twins (NO), Linda Bournarne Engelberth (NO/DZ), Cassie Brødskive (Jens Martin Hartvedt Arvesen) (NO), Frida Marida (Hani Assaf) (LB), Danja Burchard (DE), Tonje Bøe Birkeland (NO), GUTTA (Lærke Grøntved (DK), Ann-Christin Kongsness (NO), Desiree Vaksdal (NO) and Josephine Collins (SE), Ihne Pedersen (NO), Karmaklubb* (Tine Semb) (NO), Anna Penkova (NO), Jan Khür (CZE), Julie Hrnčířová (CZE), Alex Benjamin (LB), Nayara Leite (BR), Lill-Ann Chepstow-Lusty (UK/NO), Mimsy Møller (NO), Skeiv Kopp (Pia Eikaas and Jo Ravn Abusland) (NO) in collaboration with Kristine Wessel, Mesén, Maike Statz (AT), Paulina Stroynowska (PL), Line Ørnes Søndergaard (NO)
Paulina Tamara (NO/CL), Henriette Berg-Thomassen (NO), Kiyoshi Yamamoto (BR/JP/NO), Ragnhild Aamås (NO).
The Museum has Collaborated with Karmaklubb*
Karmaklubb* has an ongoing series called Queering the Museum Investigations, which examines museological practices from queer perspectives. The collaboration has consisted of workshops with subsequent discussions and concrete projects that are presented at the exhibition and that will continue throughout 2022. Karmaklubb* is run by its founder Tine Semb.