Pamela Dodds – Documenting Border Barriers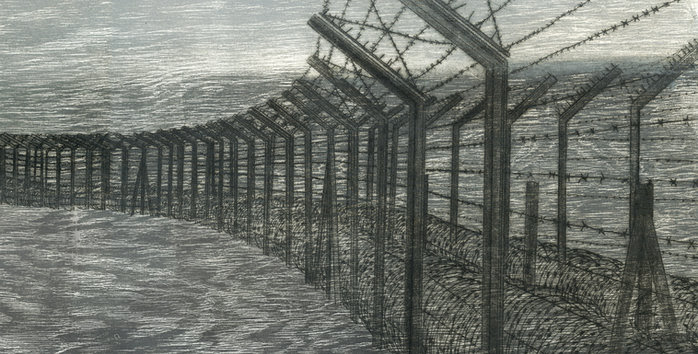 Detail, India-Bangladesh Border Barrier, 11×19 in. / 28×48 cm, drypoint & relief print on paper, 2021
Pamela Dodds – DOCUMENTING BORDER BARRIERS
March 4 – April 16, 2022
in the Project Space at
Open Studio Printmaking Centre
401 Richmond St. West, Suite 104
Toronto, Canada
Over the many months of the pandemic, my work has taken a new direction, shifting from a focus on the intimate and personal to look at the external forces affecting individuals, families and communities.
Well before the pandemic led to the closing of borders to control the spread of the virus, a different lockdown had been emerging throughout the world. Documenting Border Barriers addresses the rise in the building of fences and walls on the borders of nations and territories with the purpose of keeping people out. The exhibition presents the initial prints in this ongoing project.
Read more about the upcoming exhibition here:
https://openstudio.ca/exhibition/documenting-border-barriers/
At present Documenting Border Barriers is scheduled for in-person viewing.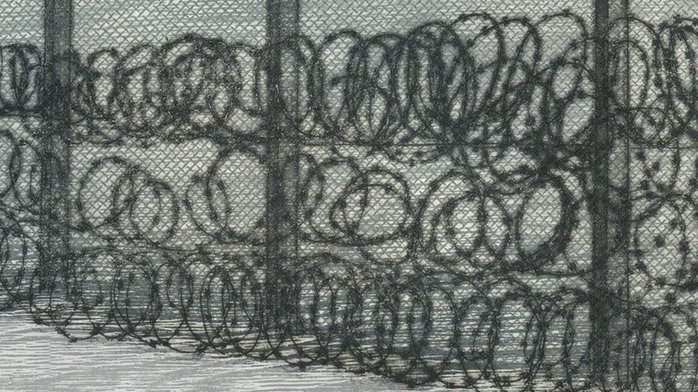 Detail, Hungary-Serbia Border Barrier, 11×19 in. / 28×48 cm, drypoint & relief print on paper, 2020
About the Artist
Pamela Dodds's work is exhibited regularly in solo and group exhibitions in Canada and the USA, and recently in Spain, Norway and the UK. Recent solo exhibitions include Undertow at Centre 3, Hamilton, Canada (virtual) and Something I Want to Tell You in Cleveland, Ohio, USA. Reviews have appeared in Art New England, Boston Globe, Cleveland Scene, Collective Arts Journal, and Globe and Mail. She has been an invited speaker at OCADU University, University of Ottawa, and Kwantlen University. She has been awarded residencies and fellowships in Canada, USA and Europe, and has received grants from Ontario Arts Council, Gottlieb Foundation, Barbara Deming Fund for feminist art, and Massachusetts Cultural Council. Her work has been purchased for collections such as Capital One Bank, Canada, and Boston Public Library, Purdue University and Cleveland Museum of Art, USA. She lives and works in Toronto.
Pamela Dodds thanks her research assistant, Temple Marucci-Campbell.
Created with support from the Ontario Arts Council