The Soup Collective
Video (2:18): 'Older lesbians discovering friendship and identity through art', a video about The Soup Collective by ABC News, 2022.
'The Soup Collective is an art group for gay women in Tasmania aged over 50. Its latest exhibition protests the federal government's now shelved overhaul of Australia's religious freedom laws. Member Victoria Vyvyan said the Soup Collective provided an important space for sharing stories and experiences.' – ABC News
The exhibition titled Church of Harridans Witness was on display at Moonah Arts Centre, Tasmania, Friday 11 – Saturday 26 February 2022.
About The Soup Collective
The Soup Collective is a group of 50+ artists. They write on their website: 'We are the Soup Collective, lesbians, feminists, old, stroppy, amusing, engaging and engaged in conversation about the things that matter to us. We develop and create work dynamically, from rich conversations around kitchen tables spread with cheese and humus and fruit and cake, and of course soup. We make use of what we have or that others have discarded to create artifacts and environments.'
The following artists are included in the above video: Jennifer Line, Victoria Vyvyan, Silver Moon and Lyn Lee.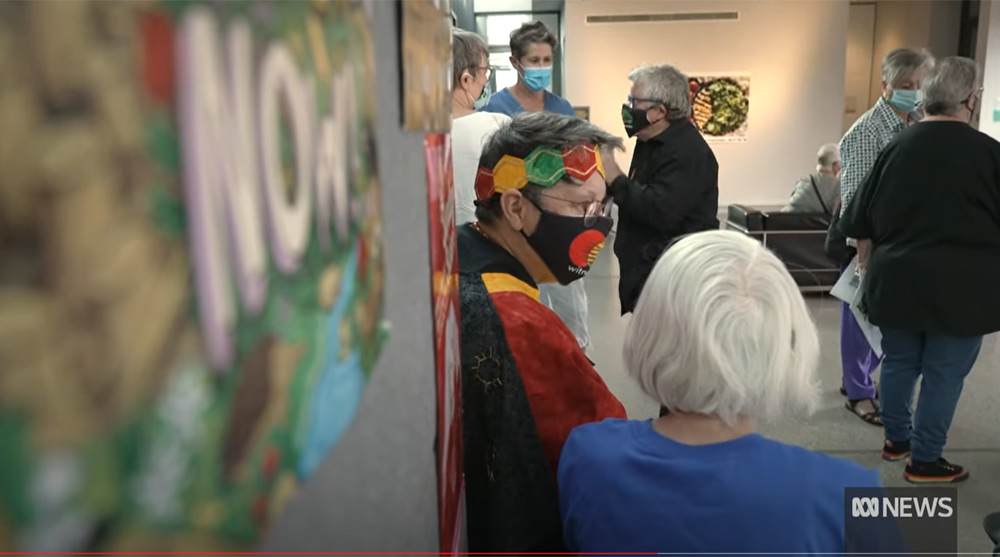 Video still from the above video.
[The copyright of the video above remains with the original holder and it is used here for the purpose of education, comparison and criticism only.]