Paris: Portraits by Juliette Gorge Coppens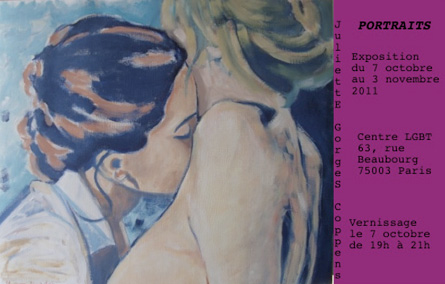 Invitation to the opening of Portraits by Juliette Gorge Coppens
Juliette Gorge Coppens invites you to the opening of her exhibition Portraits in Paris.
Portraits by Juliette Gorge Coppens: 7.10 to 3.11.2011
Centre LGBT,  63, rue Beaubourg, 75003 Paris, France
Opening: October 7, 2011, 19:00-21:00
Juliette Gorges Coppens, born 1969 in Paris, is a French artist working and living in Berlin. She works with different medias, sketches, collages, stained glasses, but her favorite is oil on canvas or on paper, the technique, which is used in her series Portraits featuring women who love women. See photos from the series Portraits.
Related Link
Juliette Gorge Coppens' website