Photos: Collective Femininst Reading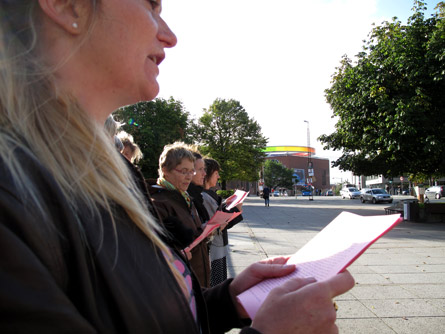 Art performance in Aarhus, Denmark, September 13, 2011: Collective reading of 'I want a president' by Zoe Leonard, USA, 1992
On September 13, 2011, two days before the general election in Denmark, there were collective feminist readings held as political art performance in Copenhagen and Aarhus. We read aloud the famous statement 'I want a president' by queer American artist Zoe Leonard, 1992.  
The next Danish prime minister will be a woman and while I are waiting for her to finish the political negotiations and announce the names of the ministers of our new government, I have made this post with some photos from the performance in Aarhus which I was taking part in. You can see me the below as the second woman from the left.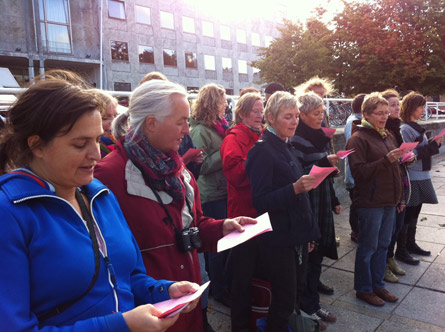 Collective Reading Project, September 13, 2011, Aarhus, Denmark.  
We read both the original text by Zoe Leonard and a Danish version 'Jeg vil ha' en statsminister' translated by Gritt Uldall-Jessen.
Related Link
Learn more about the event in this post Denmark: Collective Feminist Reading Project at Feminine Moments. Here you also find Zoe Leonard's original text.
---
Tagged Artists in This Post:
---