QIY – Queer It Yourself: Tools for Survival / San Francisco till June 23
Hello from Anthea,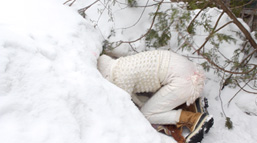 If you are in the San Francisco area this June, please join us for QIY – Queer It Yourself: Tools for Survival at SOMArts Gallery. My newest work, Queer Survival Campout Snowcave, filmed during our big Ontario blizzard this winter, is part of the exhibition. Brrrrr!
Have a great summer!
QIY - Queer It Yourself: Tools for Survival
June 4 – 23, 2011
SOMArts
San Francisco, USA
Free entrance
QIY - Queer It Yourself: Tools for Survival Press Release
"Inspired by the late 1960s utopian builders' guide A Whole Earth Catalog, QIY: Queer It Yourself – Tools for Survival presents a forum for queer do-it-yourself culture and alternative world making.
QIY is envisioned as a laboratory for creating a sustainable queer culture and demonstrating the power of self and community organizing, re-creation, speculation, and transformation. As an antidote to anti-sociality theories of queerness (that suggest queerness can only be rendered as a negation of heteronormativity), Queer It Yourself invites artists to forge their own tools for confronting the everyday challenges of contemporary queer existence.
The exhibition presents artists' workstations, participatory spaces, hands-on training sites, maps, artwork, ephemera, and user-friendly art that foreground immersive and interactive experiences. These works demonstrate how art can provide active and meaningful tools for surviving our contemporary lived world.
The curators have queered the index of the original "Whole Earth Catalog" and adapted its thoughtful and useful categories to reinvent our own catalog of queer tool-making and to frame this QIY space."
Artists in the Exhibition:
Black, Anthea
Bolingbroke, Richard
Bombardier, Cooper Lee
Boy with Arms Akimbo
Bruehl, Timothy
Bund, Wayne
Canogullari, Esra
Carland, Tammy Rae
Collins, Liz
Coyl, Finley
Cries of San Francisco
Der Ananian, Greg
DirtStar
Field, Robin
Gamboa, Ricardo
Geller, Marc
Goldstein, Daniel
GLBT Historical Society
Jora, Stephan
Katz, Dorian
Liebegott, Ali
Luengsuraswat, Bo
Luna, Mev
Marano, Florencia
Martin, Diana
Million Fishes Gallery
Murphy, Annie
Novy, Jeremy
Julie Perini
Plaster, Joey
Robinson, Eric
Sanders, Jeremy
Sando, Cee
Smith, Allison
The Cockettes
Vanguard Magazine
Visual Aid
Wilson, A'dra
Wood, Rachel
WORKSHOPS
Seaman, Kevin
Sopprani, Ernesto
QIY curatorial committee:
Terri Berlier, Josh Faught, Jordy Jones, Rudy Lemcke (Chair), Matt McKinley, Pamela Peniston, and Tina Takemoto.