Sheila Autonomista Festival 2010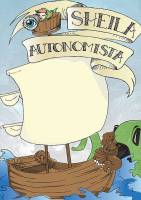 Sheila Autonomista is a massive indie, non-profit, queer women's art and music festival held across 6 days in 3 venues – Alpha House, Kudos Gallery and The Red Rattler in Marrickville, Australia. The art exhibitions, Scabaret, Film Night, and Scooter are open to everyone. All workshops and Gurlesque are open to women / trans only. The festival starts today and I have high lighted a few of the art events below.
 
Women In Piracy
Exhibition of women artists using found, adapted and stolen media and ideas. Bronwyn Bailey-Charteris, Penelope Benton, Tara Cook, Brown Council, Tina Fiveash, Chloe Hughes, The Kingpins, Vicki Papageorgopoulos and Elizabeth Reidy. Curated by Marcel Cooper.
Tues March 30, 2010
5-7.30pm
Kudos Gallery 6 Napier St. Paddington.
11am – 6pm Wed to Fri 11am – 4pm Sat, continues to 10 April.
closed Good Friday.
Profiler
women & trans multimedia exhibition soundscapes, performances, happenings curated by REadbEaRd Shannon Johnson & Rosanna Eid
Wed March 31 and Mon April 5, 2010
6pm – 8pm
Opening night drinks and performances InREal: Alpha House Artist Coop.
Alpha House, Lvl 1, 226 Union St Erskineville.
Exhibition hours: 4-6pm daily, 31 March to 5 April.
Late Beats & Bleeps 
Sheilas.Art.Technology.Dancing
Featuring: Press Eject, Kate Carr, Agent Autochord
DJ Huckleberry Spin, plus more tba projections by female new media/video artists
Thurs April 1, 7pm
THE RED RATTLER THEATRE
6 Faversham St
Marrickville 
Workshop: An introduction to digital photography
This Course provides an Introduction and overview of photographing, processing and retouching of digital images. The emphasis is on the investigation of digital photographic techniques pushing your camera to get the best results possible.
Please RSVP to marnievaghn@hotmail.com Bring along a digital SLR camera & a laptop if you have one. Not essential.
Sun April 4, 2010
1pm – 3pm
THE RED RATTLER THEATRE
6 Faversham St
Marrickville
 
Related Links
Further details and the full programme of Sheila Autonomista Festival 2010 at the Red Rattler's website.