Somnyama in France
Excerpt from a press release by Lerato Dumse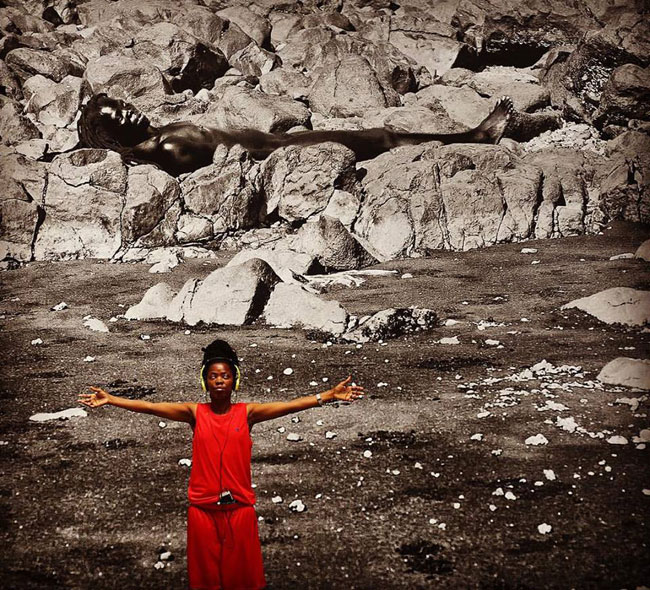 Zanele Muholi at the installation of Somnyama Ngonyama. Exhibition view from SYSTEMATICALLY OPEN? — New Forms for Contemporary Image Production, Arles, France, 2016
Somnyama in France
Somnyama Ngonyama exhibition [by Zanele Muholi] is part of the launch of La Mécanique Générale, a new exhibition venue in the Parc des Ateliers in Arles (France). The Luma exhibition opens on the 4th of July [and runs] until September 25, 2016. This is Zanele Muholi's first comprehensive Somnyama Ngonyama series exhibition. Somnyama was first shown on October 22, 2015 at Yancey Richardson Gallery in New York City followed by a Johannesburg opening a month later at the Stevenson Gallery. The [group] exhibition is titled SYSTEMATICALLY OPEN? — New Forms for Contemporary Image Production, it is part of the international photography festival Les Rencontres d'Arles 2016.
This touring series recently opened at the Grahams Town National Arts Festival, running from 30 June – 10 July 2016 at the Standard Bank Art gallery, Albany Museum [USA]. The Grahams Town show opened two weeks after Somnyama was part of the unveiling of the Mina/Meg titled group show, at the Oslo Historical Museum, [Norway].
Luma website describes the exhibition as "drawing upon avant-garde, political, and critically conscious legacies of aesthetic production, providing a new framework for experiencing the image as a reproduction, and prompts a structural rethinking of the photographic medium." The selection process of the participating artists, which [also] includes Walead Beshty, Elad Lassry, and Collier Schorr, followed Luma's core group "establishing a competition process to consider the contemporary importance of exhibition display." They then selected architect Philippe Rahm and four artists; to each develop a curatorial project within Rahm's overall exhibition design.
Muholi's artist statement reads, "Somnyama Ngonyama can be translated to 'Hail, the Dark Lioness.' The body of work uses stylized self-portraiture as a means to commemorate, question, and celebrate the ways the black body has been represented in photography." Muholi has chosen the Somnyama project as the base of confronting racial dynamics in her country of birth South Africa and other countries experiencing racism. The project, which is meant to be complete after 365 portraits is sustained by doing internal observations and dealing with personal issues stored in Muholi's childhood memories.
Going big is one route the photographer opted for. The exhibition features six large wallpapers, averaging 4m high and 4m long. Many of the works on display are being shown for the first time. 29 framed pigment prints will be shown along with a digital slideshow projection with about 80 self-portraits playing in loop. The props influence the aesthetic in many of Muholi's Somnyama images. She has been successful in using everyday products including Pegs, Pot scourers, Flight pillow, Chopsticks, Masking tape, Latex gloves, Electric chord, Money (ZAR) and Belts. These props amongst many others will be part of the installation.
Muholi, a firm believer of collaborations has teamed up with Napo Masheane who comes on board with her words. As a founding member of Feela Sista! Spoken Word Collective, Masheane has her own collaboration experience. The playwright, poet, stage director, producer, teacher as well as a local and international performer, shares a passion for the visibility of black women with Muholi. In an interview with Bona magazine Masheane declares that she is concerned with ensuring that "our stories are told the way we want them to be told."
Related Link
Must-See Queer Feminist Exhibitions in Europe Summer 2016 by Anna McNay and Birthe Havmoeller