'Teaser' a Solo Show by Aurora Reinhard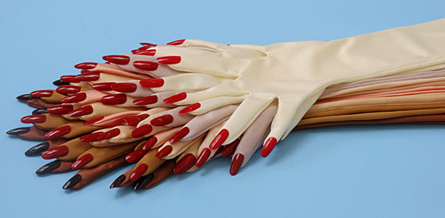 Flowers, 2006, 6 pairs of handmade lyckra gloves, artificial nails, nail enamel, 55 x 30 x 4 cm. Copyright Aurora Reinhard
Finish artist Aurora Reinhard's latest exhibition "Teaser" opened last weekend at Tallinn City Gallery, Harju St. 13, Tallinn, Estonia. The exhibition features video, photo series and an installation. Teaser focuses on female fetish and the mechanisms of sexuality, everyday mythology, desire and economics that are related thereto.
Aurora Reinhard has since the end of the 90'ies worked with issues about gender, female identity and the marginalization of women, lesbians and other social groups. The press release about "Teaser" reads:
"She [Aurora] does not accuse the oh-so-horrible male-centered chauvinist world of everything, but rather demonstrates how women themselves have happily participated and surrender themselves to sexually charged power games. Reinhard demonstrates that the relationship is not simple and one-sided – with one side the victim and the other the "sadist" – but that women themselves have made sexuality an instrument in inter-gender games."
 
The exhibition is open from March 28th to April 12th 2009, Mon-Sun, 12 noon to 6 pm. at the Tallinn City Gallery, Estonia.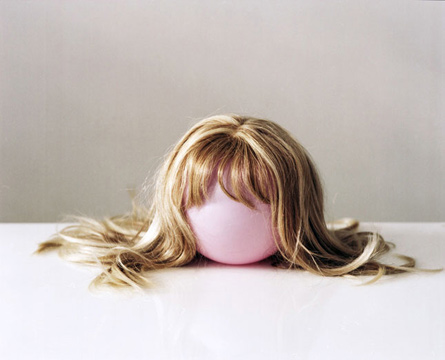 Teaser – press photo, 2008. Copyright Aurora Reinhard
Related Link
Other images from 'Teaser' are available on Aurora Reinhard's website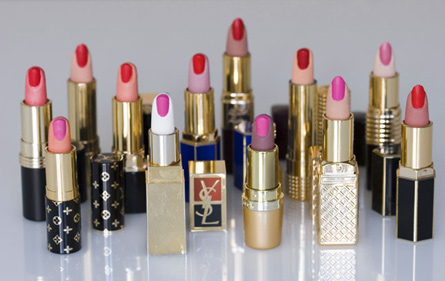 Curiosity – Series of lipsticks, 2008, ready-mades transformed, fingers casted from melted lipsticks, natural size. Copyright Aurora Reinhard