The Art of Lenore Chinn
Press Release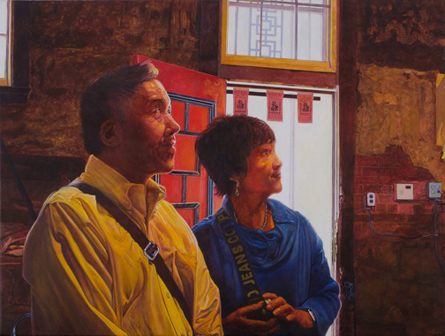 The Oracle Room, 30 x 40″ acrylic on canvas, ©2011. Lenore Chinn
Cultural Confluences: The Art of Lenore Chinn
Opening Reception: Friday, June 8, 2012, 6pm – 9pm
Exhibition: June 8 – 30, 2012
Location: Luggage Store Gallery at 1007 Market Street near 6th Street, 2nd Floor (mezzanine), San Francisco, CA 94103
Gallery Hours: Wed-Sat 12-5 pm and by appointment
Cultural Confluences: The Art of Lenore Chinn celebrates the public unveiling of The Oracle Room, a painting for which Chinn has received a 2011 San Francisco Arts Commission Individual Artist Commission, in Visual Arts. It is contextualized by Chinn's most iconic canvases which focus on Asian American and LGBT themes.
"The unveiling of every new painting by Lenore Chinn is a cultural event worth seeing – as Chinn is among San Francisco's most inspiring artists. Her elegant work bridges communities and aesthetics."
— Mark Dean Johnson
Professor of Art and Gallery Director at San Francisco State University; Editor, "Asian American Art: A History, 1850–1970;" Co-Curator, "Asian/American/Modern Art: Shifting Currents," de Young Museum.
Related Link
www.lenorechinn.com