The National LGBT Visual Documentation Project
Text: Silvia Ros, the founder of the National LGBT Visual Documentation Project, USA
Freedom is a concept that has particular resonance for my family.  My great-grandparents fled the political turmoil of Spain for Cuba. A few decades later, there was a second family exodus when my grandparents and parents left Cuba in search for freedom and democratic values in the United States.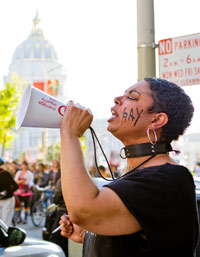 Born in the U.S., I am a citizen of the country where the quest for freedom became the catalyst for its creation, as well as the essence of its Bill of Rights and Constitution. Americans believe the freedom to love is part of our unalienable rights but for me, it is not. As a gay woman in America I am discriminated against for loving a woman. I cannot marry my partner, adopt a child with her, or file taxes with her.
At seventeen, when my strict Cuban parents found out I was gay, they threw me out.  I was homeless.  They told my younger brother they did it because I was on drugs.
My brother and only sibling came out a year after my mom died of cancer, when I was 20.  My father told me it was because of all my fag friends that had been hanging around.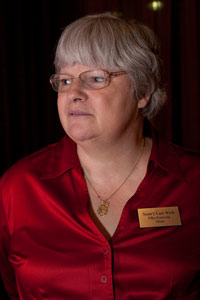 My story is not as bad as others.  Every day we prolong inequality, someone else suffers a similar or worse fate.
I'm not a radical, or someone who just likes to stir up trouble. I'm really quite shy, which has made this process more painful.
With this project [The National LGBT Visual Documentation Project] I have sought out people like myself, who have seen the ugly face of discrimination and rather than cower have turned that experience around to fight for full equality.
Through these portraits I seek to highlight the ordinary people who have been thrust into activism in response to the discrimination they have faced. These personal stories and the faces of real people will serve to inspire new generations of activists and educate the general public about how discrimination affects real people. Preserving these images and utilizing the imagery will enrich the institutional memory of the LGBT movement and ensure that the sacrifices made by so many in this fight are not forgotten once equality is achieved.
Above photos by Silvia Ros:
(First photo) The day the California Supreme Court announced their decision upholding Proposition 8, a voter initiative that declared gay marriage illegal, a woman leads the call to protest in front of the San Francisco's City Hall.
(Second photo) Elke Kennedy's son Sean, was brutally murdered, a victim of a gay hate crime. Elke took her grief and started Sean's Last Wish a week after his murder. She now speaks nationally against hate crimes.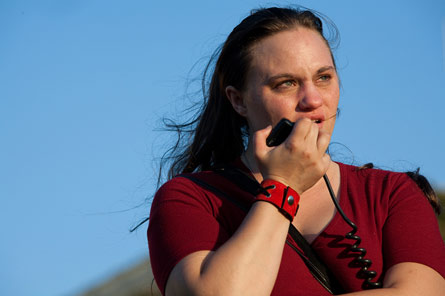 At a youth speakout a young Mormon girl describes the loss of her friend, who was beaten to death for being gay, as well as her own pain from being thrown out of her mormon household for being a lesbian. Photo by Silvia Ros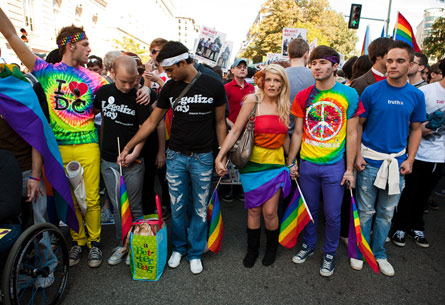 Gay youths band together at the front of the National Equality March in Washington DC on October 11, 2009. Photo by Silvia Ros.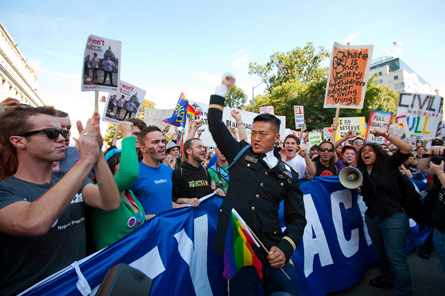 Dan Choi is a former American infantry officer in the US Army who served in combat in the Iraq war during 2006-2007. He became an LGBT rights activist following his coming out on the The Rachel Maddow Show. He is pictured here rallying youths at the National Equality March in DC. Photo by Silvia Ros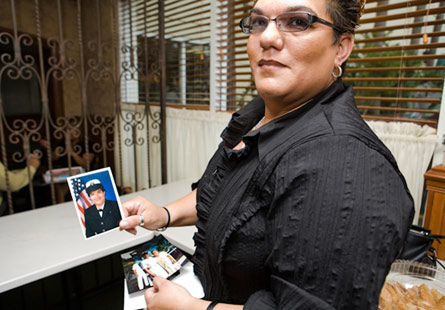 Yaletza Morales left the Navy without benefits just before Don't Ask, Don't Tell became law in 1994. She is seen here after speaking at a rally at Versailles restaurant, a conservative Cuban establishment in Miami. Photo by Silvia Ros.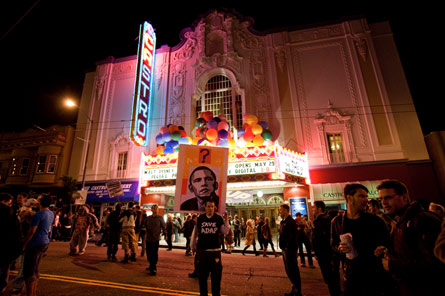 In San Francisco, a protester stands in the Castro District amidst the chaos, questioning what happened to Barack Obama's promise of 'change'. Photo by Silvia Ros.
About Silvia Ros
Silvia Ros is a queer Cuban-American. She is based in Miami, USA and had her first solo exhibition in 2006 at the MIA Gallery. Silvia works as a senior photographer at The Wolfsonian–FIU and is the founder of The National LGBT Visual Documentation Project.
Related Links
The National LGBT Visual Documentation Project
Silvia Ros' webgallery