The Song Of Songs by Liliana Kleiner

The Song of Songs – An artist's Creative Journey Across Cultures by Lillian Kleiner
Lillian Kleiner will discuss the process of creating the art images for the sacred ancient book of 'Shir HaShimrim, The Song of Songs Monday June 21, 2010 at 7:30 pm at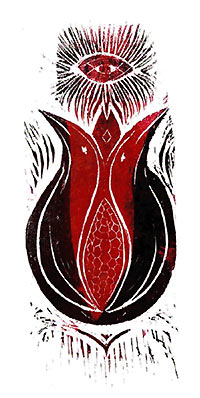 Sidney & Gertrude Zack Gallery
Jewish Community Centre of Greater Vancouver
950 West 41st Avenue
Vancouver, Canada
Please RSVP Daniella Givon 604.257.5118 or Reisa Smiley Schneider 604.638.7277; Tickets at the door.
The Song of Songs, one of the 5 scrolls in the Bible, are love poems thought to be written by King Solomon, and taken as an allegory for the relationship between the creator and his beloved creation. The process of creating the images for this sacred ancient book has been an amazing journey across continents, cultures, languages and materials.
Liliana Kleiner: 'I would like to share with you my experiences of living and creating in my three homes – north America, latin America and Israel – and talk to you, in English, Spanish and Hebrew, about a universal language, tongue of art and soul, the language of creation. Art and images have no borders, no passports, no limitations of ego or collective rules, and I believe their power and beauty lies in their freedom.'
About Liliana Kleiner
Liliana is a visual artist, who works with paintings, printmaking, film video dance and performances. She was born in Buenos Aires, Argentina and has lived and worked in Argentina, Israel and Canada. Liliana is based in British Columbia since 1995. She has published one book 'the Songs of Lilith' (2007) based on an artist book with a collection of woodcuts printed on handmade paper.
Related Link
Liliana Kleiner's website