University Radio: Interview with Julia Kunin by Brainard Carey
Radio Interview
Listen to: interview with Julia Kunin by Brainard Carey at the Museum of Non-Visible Art, USA.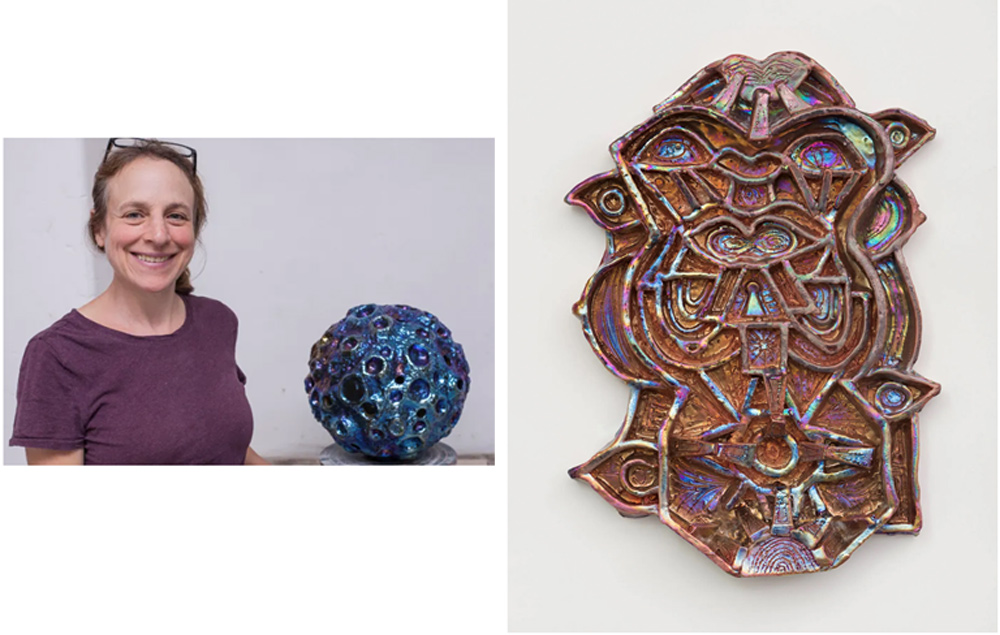 Left: Julia Kunin. Right: Chambered Rainbow, (2016) by Julia Kunin.
Exhibitions
Julia Kunin currently has an upcoming exhibition
Making In-between: Queer Identities in Clay at
AMOCA The American Museum of Ceramic Art, Pamona, California
May 6 – December 29, 2023
and a two-person show
Kaleidoscope Eyes – Julia Kunin and Mara Held at
McClain Gallery, Houston, USA extended through May 6, 2023
About Julia Kunin
Julia Kunin (b. 1961) is an artist living and working in Brooklyn, NY. Her work explores themes including queerness, the body, and the natural world. She earned a B.A. from Wellesley College (Wellesley, MA) and an M.F.A. from The Mason Gross School of the Arts, Rutgers University (New Brunswick, NJ). Her sculptural ceramics has been widely exhibited. Recent solo exhibitions include Mechanical Ballet at Kate Werble Gallery (New York, NY) in 2021 and Rainbow Dream Machine at McClain Gallery (Houston, TX). Her works has been acquired by a number of museums among others the Los Angeles County Museum of Art, LACMA, and Museum of Aarts and Design (MAD). And she is a member of the board of FIRE, The LGBTQ Fire Island artist residency.