Vancouver: Random Acts of Queerness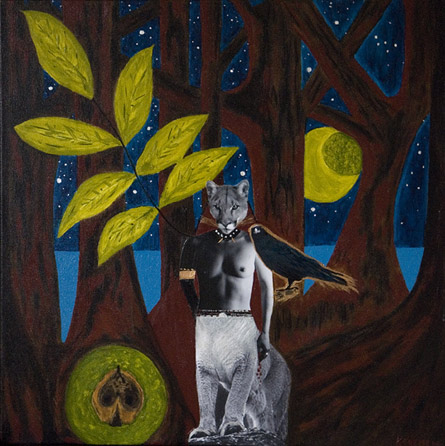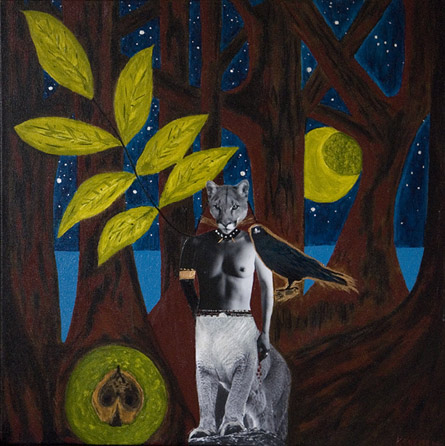 Lion, Raven and Walnut Tree by Kimberley French
Random Acts of Queerness – Curated Visual Art Exhibition
July 31 – August 18
Roundhouse Great Hall
Vancouver, Canada
Gallery Hours
11 am – 10 pm Monday to Friday
11 am – 4:30pm Saturday and Sunday
The 2012 Queer Arts Festival brings you "Random Acts Of Queerness", to commemorate the centenary of the experimental multidisciplinary queer artist John Cage (1912-1992). A pioneer of Experimental Music, Cage is best known for championing Indeterminacy: a philosophy that opens up artistic practice to include the random as a way of radically breaking with tradition, convention and habit. (…)
For this year's theme, some artists have chosen to explore literal "random acts of queerness": those odd, spontaneous moments when our queerness bursts forth upon the world. Others decided to include random or indeterminate elements in their work, whether it be Indeterminacy of Process, Indeterminacy of Form or Indeterminacy of Identity; perhaps risking the effects of random juxtaposition. Cage used strategies such as the I Ching, playing random radio stations and putting odd objects inside of pianos before performing as methods of creating indeterminate music. What kinds of systems, symbols or strategies will be harnessed?
Curated by guest curator multidisciplinary artist Persimmon Blackbridge; Pride in Art Society past president, painter Jeff Gibson; and QAF Artistic Director, photo-based artist SD Holman.
Curated Visual Art Exhibit Artists:
Patricia Atchison, Katherine Atkins, Dana Ayotte, E.D. Blackwell, Therese Buchmiller, Angelina Cantada, Amy Dame, Adrian Fehr, Kimberley French, Garth Amundson & Pierre Gour, Afuwa & Aerlyn Weissman, Charlotte Hewson, Suzo Hickey, jono, Emma Kivisild. Dzee Louise, Mico Mancuso, Mark McGregor, Stephen Middleton, Rosamond Norbury, Kate Price, David Sandford, Wendy Sexsmith, Noel Silver, Shelley Stefan, Suzy Stroet, Lai Wan and Paul Wong.