B is for Butch
Azucarera Gallery presents the exhibition B is for Butch by queer painter Shelley Stefan. The exhibition runs through August 30, 2010 at Azucarera Gallery, 414 W. 145th St. NY, NY 10031, USA.
Text by Shelley Stefan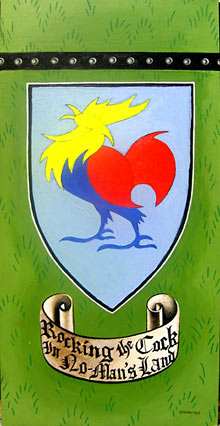 B is for Butch
is a series of Paintings and Drawings that look at the complexity of butch identity, specifically focusing on conceptual notions such as butch (in)Security as well as other dual significations that serve to provide metaphorical maps for the interesting liminal space that being butch occupies. What is butch and what is it to be butch? Or perhaps, further – What kind of psychic space or set of subcultural intricacies are involved with being butch? And, here, more importantly: What does this look like?
This series of work draws from my life experience as a butch lesbian, based on many years of both self-reflection and authentic subcultural observation regarding issues of queer gender and this complex terrain. The work happens at a time in queer history where inquiries into butch gender are acute and necessary, making a case to understand butch, not only in and of itself, but also and especially as it relates to a deeper corollary understanding of what it means to be femme or to be transman, or anywhere, for that matter, in the gay gender continuum. What becomes interesting and important in the work is not only the expansion of cultural knowledge regarding the space contemporary butch identity occupies in human consciousness, nor the goal to contribute to half a century of butch/trans/femme history, but also and critically compounded in the visual artwork, the heralded, empathetic, if not playful, depiction of that which I find to be dichotomous in butch female gender.
Above right: Primary Cock#3, oil painting from the series B is for Butch by Shelley Stefan, 2010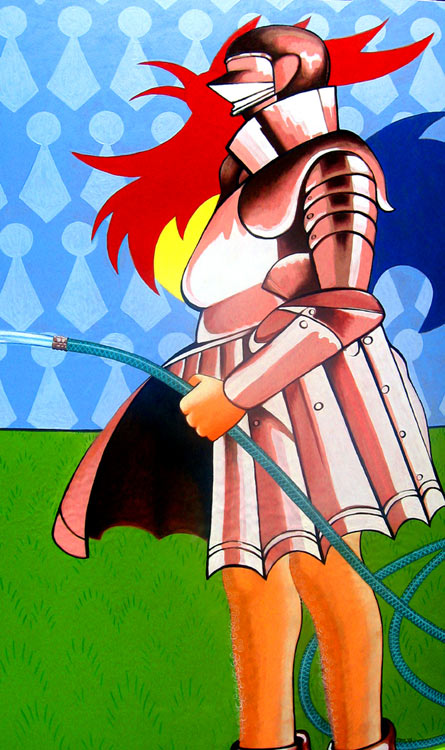 Lamboy#2, oil painting from the series B-is-for-Butch by Shelley Stefan, 2010
Invested in the examination of subcultural interiority, and aiming to uncover the sensitivities inherent to the essence of being butch, this series gives special attention to the ways in which butch subjectivity is emotionally liminal, situated in the space of the both/and/or, not dissimilar to Gloria Anzaldua's nepantla or Homi Bhabha's gaps, and occupying a mode in this world that can and often does engender at once feelings of security/insecurity and/or bravado/vulnerability. Appropriated and manipulated renditions of traditional medieval armour, such as in the use of lamboys, as well as strategic juxtaposition of culturally potent images/symbols alongside various plays on words all serve to create visual and conceptual tension in the work. Functioning off of the mingling of art movements such as Social Realism, Feminist Art, and Surrealism, B is for butch is a series about discovery and learning. In the same manner that the kindergarten student learns of this taught world and becomes scribe:…A is for apple, B is for boy, this series of Paintings and Drawings aims to re-open the pedagogical dialogue, allowing for a new lesson, or at the very least, a new mode of visual understanding in the realm of contemporary butch subjectivity.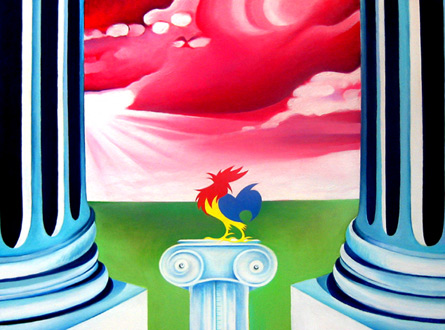 Primary Cock, oil painting by Shelley Stefan, 2010
Primary Cock#1 and Primary Cock#2, oil paintings from the series B is for Butch by Shelley Stefan, 2010
Shelley Stefan (b. 1974, Palos Park, Illinois, USA)
Shelley Stefan received her BFA in Painting and Drawing in 1996 from The University of Notre Dame in South Bend, Indiana, USA and her MFA in Studio Art in 2006 from Maine College of Art in Portland, Maine, USA. She has exhibited in both Canada and the United States and is a Faculty Member of Painting/Drawing in the Visual Arts Department at the University of the Fraser Valley in Abbotsford, British Columbia, Canada.
The formal and conceptual base of Stefan's Visual Arts practice is rooted in an investigation of queer subcultural subjectivity. Since 1995, her work has examined, redefined, and/or revelled in notions of taboo, identity, gender, sexuality, and power, all from within the vantage point of the queer liminal lens.
Shelley Stefan currently lives and works in the Fraser Valley, British Columbia, Canada.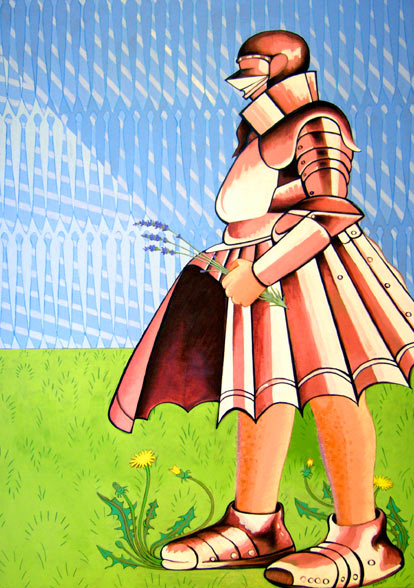 Lamboy#1, oil painting from the series B is for Butch by Shelley Stefan, 2009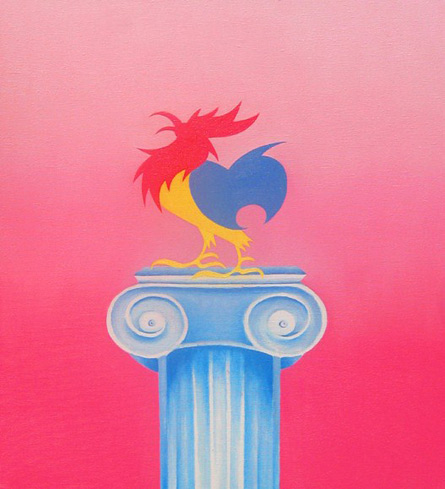 Primary Cock, oil painting from the series B is for Butch by Shelley Stefan, 2010