Book: Cultural Confluences: The Art Of Lenore Chinn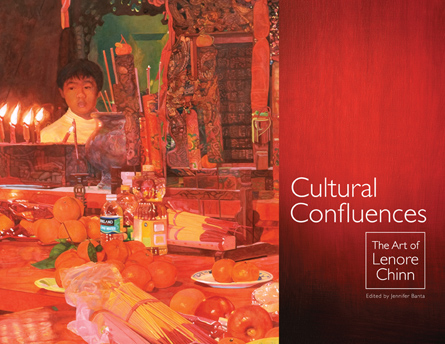 Cultural Confluences: The Art of Lenore Chinn
Artworks by Lenore Chinn
Essays by Moira Roth, Tirza True Latimer and Valerie Soe
Publisher: Asian Pacific Islander Cultural Center, 2011
Language: English
ISBN-10: 145075127X
ISBN-13: 978-1450751278
Product Dimensions: 10.8 x 8.3 x 0.3 inches
Editorial Reviews
Harmony Hammond, Artist and Author of Lesbian Art in America: A Contemporary History:
Cultural Confluences, a long-overdue survey of Lenore Chinn's large-scale photo-realist portrait and commemorative paintings, illuminates her career as an artist and as an activist in San Francisco s diverse LGBT and Asian American communities (indeed they are not separate)… Chinn's loving and intimate acrylic portraits of individuals and same-sex couples, render visible and luminous subjects whose cultural identities are multiple and complex. Chinn and her work are inspirational!
Mark Dean Johnston, Professor of Art and Gallery Director at SFSU:
This important and thoughtful book about visionary San Francisco artist Lenore Chinn is most welcome. Packed with valuable essays by renowned scholars and rich with reproductions of her exquisite, realist paintings as well as important visual ephemera, it documents how Chinn has balanced navigating an art practice with a life-long commitment to social activism. The radiant beauty of her success in doing this is truly inspirational.
Margo Machida, Associate Professor, Art History & Asian American Studies, University of Connecticut:
Cultural Confluences traces the arc of representational painter Lenore Chinn's ongoing artistic trajectory, distinguished by a remarkable generosity of spirit embedded in a wide-ranging sense of community with others, her minutely observed portraits grow out of the nexus of relationships that have inspired and nurtured her efforts across several decades.
About Lenore Chinn
Lenore Chinn began painting when she was growing up in San Francisco's Richmond district, focusing on portraiture to explore the super-realistic depiction of a wide spectrum of people of color, lesbians and same sex couples. Employing a coded iconography rooted in a lesbian/gay cultural perspective. Chinn's inclusion in Harmony Hammond's Lesbian Art in America: A Contemporary History, the first study of American lesbian visual artists, vastly expanded her national visibility. Her portraits documenting the historical evolution of San Francisco's queer community challenge the social conventions that currently constitute the racialized order of things. She is included in Encyclopedia of Asian American Artists published by Greenwood Press in 2007. The artist has been a founding member of Lesbians in the Visual Arts and Queer Cultural Center and is affiliated with the Asian American Women Artists' Association.
Related links