Censorship of Queer Art at GFEST in London
The managers of InterChange Studios demanded the exhibition to be
closed on Saturdays and that 10 of the exhibition's 21 queer artworks, including works by Jan Morley, Corrine Bot, Kimi Tayler and Jason Woodson, to be covered up out side the official opening hours i.e. on
weekends and two evenings a week to make the room 'safe' for preschool children and their parents.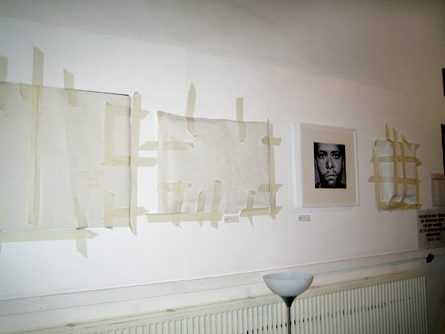 Exhibition view- queer art covered-up at the GFEST 2010. Photo by Jane Hoy
Wise Thoughts, which organises the annual GFEST festival, complied with the demand and ordered their exhibition volunteers to cover the censored artworks with wallpaper and tape. Exhibition volunteer Jane Hoysays in an article about thethe cover-up of the queer artworks: "I was very taken aback at this request and Subodh (Rathod, Gfest's administrative director) told me that the management of the centre were concerned that the artwork might be seen by young people and their parents. It wasn't clear to us why this was a problem, but it was clear that if we didn't do it they would shut down the show."
Queer artist Jason Woodson, who had his painting covered-up says: "The purpose of the exhibition was to open up a dialogue with the broader community to increase both knowledge and understanding of LGBT issues.
By capitulating to the venue's demands, I feel that we not only lost an opportunity to achieve our goals, but also sent a very negative message to the general public. It was a clear signal to those who saw the covered works that our thoughts, fears and essentially our lives can and will be silenced. And I think worse still is that Wise Thoughts accepted these terms, on the artists' behalf without any consultation."
Niranjan Kamatkar, Artistic Director of GFEST Says: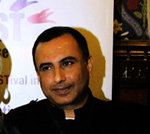 "GFEST – Gaywise FESTival is a showcase for LGBT / glbt or gay artworks, films and performances working in partnership with a range of London venues that help challenge preconceived notions and also among the hard to reach communities, which Hampstead Town Hall attracts. We opted for exhibiting the work as per the exhibition open times.
This was also in the hope that the town hall management would reconsider their decision to cover the artworks on the evenings, which they didn't and insisted on covering the artworks on the two weekdays evenings and weekends – post the official exhibition closing times. It was a no-win and very traumatic last minute decision, either to take down the exhibition or be forced to comply with their decision while also managing the rest of festival activities.
Considering the lack of resources and recourse to an alternative venue, we opted for the latter and ensure that the exhibition goes ahead and viewers can make up their own mind whether the work warranted the censorship.
We have written to Hampstead Town Hall Trustees / board of management to seek their official response but it feels as if they are ignoring us. It has been a good learning process for us but also historic mainstream arts & community venues like this need to face the issues in more balanced way. In 2010, initiatives like GFEST need to encouraged by more mainstream venues rather than inflict censorship.
It was aweful but also as organisers we face huge pressures to effectively deliver the programme (within minimum and now diminishing budgets/ funds) & send a message that we want to work with mainstream venues (and which are accessed by hard to reach communities) where queer work needs to be shown – to combat the culture of homophobia & transphobia that still exists (either actively or passively) around us."
Photo above right: Niranjan Karmatkar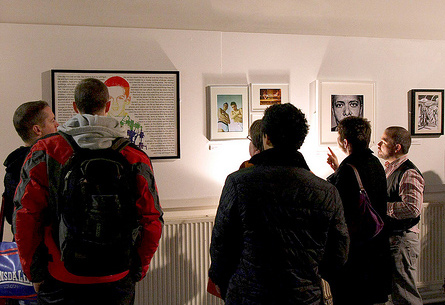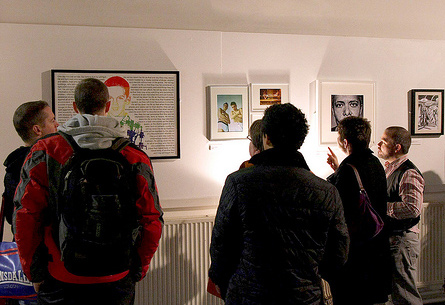 Exhibition view, photo from the opening of GFEST 2010 visual arts exhibition. Artworks from left, painting by Jason Woodson, photos by Corrine Bot, photo by Beata Kosc and drawing by Helena Janecic. Photo: GFEST
Let's talk about homophobia and censorship of queer art at the GFEST2010 visual arts exhibition
I (editor of Feminine Moments) am sorry for Wise Thoughts. They do a fine and huge job to present queer art. This cover-up sounds as a pure case of homophobia and harassment of a queer arts festival and I will soon post more reactions to the censorship. If you want to comment on this article, feel free to write your comments below.
Related links
Corrine Bots website
Jan Morley's website