Christmas Gift 2010: Morally Corrupting Mugs
Box, vulva, front bottom, cunt, fanny, pussy, cave, cloister, ring, nook, notch, slit, vent, wound, circle, chink, cranny, gash, beaver, crack, quim, fig, pudendum, yoni, minge, hole, vagina, pussy, fanny, twat, snatch, commodity, down there, muff, cunny, con, cave, breach, quaint, crease.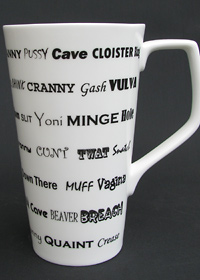 – This is what designer and
lesbian Jan Morley's mugs read.
Jan Morley, UK, has been a designer for the last 15 years producing tableware designs. Her aim is to challenge boundaries and produce art with a difference, and she designs for modern queer consumers.
The Queer Mug Was Censored
Jan's pussy mug got a thumbs down, when it was on display at GFEST's queer arts exhibition 2010 and was among the queer artworks, which was covered-up / censored by the managers of InterChange Studios at Hampstead Town Hall in London, who wanted to make the queer art exhibition safe for small children and their parents.
If you want to buy one of Jan Morley's morally corrupting mugs (Limited edition of 25 pieces) – please contact her at info@libertybodies.com
www.libertybodies.com
Photo above left: Pussy Portfolio Mug by Jan Morley, UK
---
Tagged Artists in This Post:
---