DECADEnce
Press release by the Queer Arts Festival, Vancouver, Canada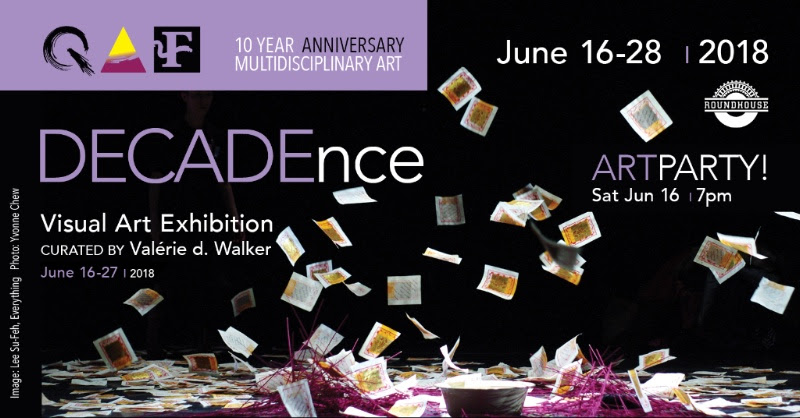 DECADEnce
June 16–27, 2018
The Roundhouse, Vancouver, Canada
DECADEnce visual art exhibition curated by Valérie D. Walker
Only one month until we reach DECADEnce!
This year marks Queer Arts Festival's 10 year anniversary and Pride in Art's 20th year as an artist-led collective. 2018's curated visual art exhibition DECADEnce remembers the Other marks and interrogates what we collectively choose to celebrate. By engaging queer artists across disciplines, DECADEnce explores marks that live beyond the page, numerical devices, and quantitative data; the mark that lives in actions unnoticed, voices unheard, lost stories of self, and races won in forgotten Herstories/Ourstories.
Our marks draw circles, wherein the repeating struggle continues in the company of a rejuvenated resistance, reviving of power and strength through art.
These marks are where we find joy, love, thrive, and create to feed our spirits and develop thick skin. We are time travellers, we have been here before, and will do it again.