Denmark: Re.Act.Feminism #2
To Dance a Prison (13:00 min with sound) by Line Skywalker Karlström, 2010. Camera and photo: Frederike Hansen
re.act.feminism #2 – a performing archive is a continually expanding, temporary and living performance archive travelling through six European countries from 2011 to 2013. It presents feminist, gendercritical and queer performance art by over 120 artists and artist collectives from the 1960s to the beginning of the 1980s, as well as contemporary positions. The exhibition is Denmark now:
Re.Act.Feminism #2
Museet for Samtidskunst
Roskilde, Denmark
June 15 – August 19, 2012
www.reactfeminism.org
Performance Artist Line Skywalker Karlström

Three of Swedish artist and queer woman Line Skywalker Karlström's performance videos has been selected for the archive and Re.Act.Feminism #2 touring exhibition. Line is based in Denmark and uses different locations in the countryside for her performances. Her videos are:
Queens Deers (2004) – a Beckett's crash course on feminist art history, performed by an unsuccesful elk for an audience of absent deers.
Screaming Mountains (2007) – documents the last performance made by the group of High Heel Sisters. See photo below.
To Dance a Prison / At Danse Et Fængsel (2010)  – is a semi improvised dance at the (building) site of a future prison and a physical ritual meditation about dominance, transformation and restriction. See the video above.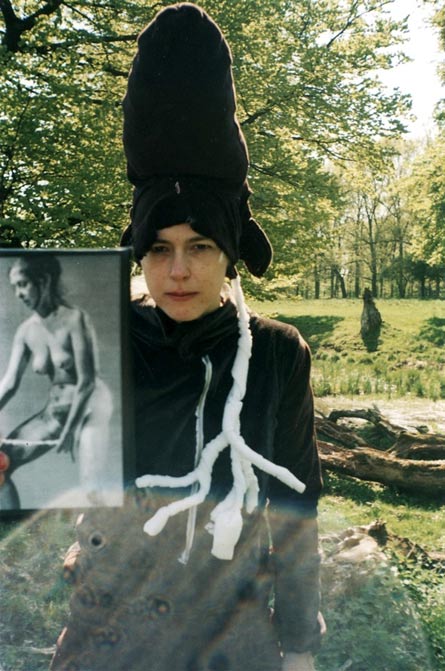 Press photo: Queens Deers, performance by Line Skywalker Karlström, 2004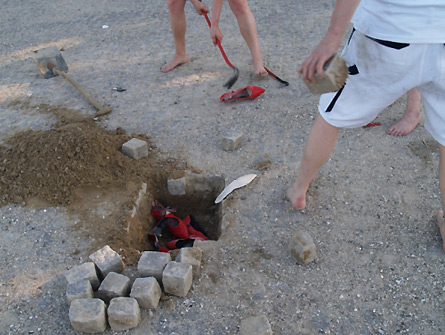 Screaming Mountain, performance by High Heel Sisters, 2010
About Line Skywalker Karlström
Line is an interdisciplinary artist (sculpture, performance, video), whos work is invested in art-as-life, processes of power and identity, lesbian and gay identity and the perception of space, and the notion of the "normal" "female" body. She is based in Denmark. She was a member of the feminist performance group High Heels Sisters and she is also a founding member of the group of Swedish artist activists, The YES! Association (2005).
Related link
Line Skywalker Karlström's art blog