Tejal Shah A Queer Feminist Artist From India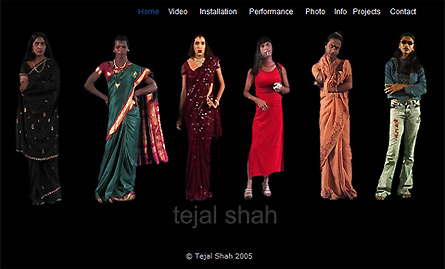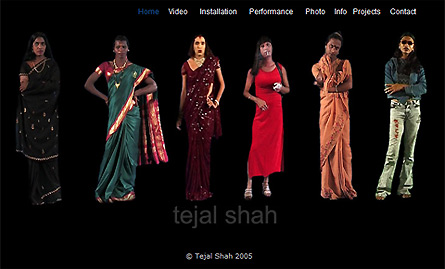 Photo: screendump of Tejal Shah's website www.tejals.com
Tejal Shah (b. 1979) is an Indian visual artist working with video, photography and installation. Her work, like herself, is feminist, queer and political. She grew up in central India and moved to Mumbai in 1995. Tejal holds a BA in photography from RMIT, Melbourne, has been an Exchange Scholar at the Art Institute of Chicago and is currently enrolled in the MFA (Film/Video) program at Bard College, New York.
Tejal has send me details about the group shows, in which you can see her art works at the moment. The exhibitions are:
'Lost and Found: Queerying the Archive'
at Buildmuseet, Umea University, Sweden, curated by Jane Rowley & Louise Wolthers, opens January 31, 2010.
Here you can see  "What are You?", an art video installation by Tejal Shah, about the transgenered hijra sex-workers in the red-light district of Mumbai. Tejal is going to Sweden for the opening of the exhibition and she will be presenting her art works at the seminar 'Queer in Theory and Pratctice' at Bildmuseet, Umeå University, Sweden, Saturday January 30, 2010.
'Re/Gendered'
,
Platform Artist Group Inc., Degraves Street Subway (Campbell Arcade), Melbourne, curated by Laura Castagnini, January 25 – February 6, 2010.
Platform Artist Group Inc. writes about the show: "Re/Gendered brings together a number of high profile international and Australian artists in a group exhibition that celebrates the notion of fluid or 'unstable' gender. These artists all aim to transgress and blur the boundaries of gender performance. Often using drag as a technique to destabilise identity, these diverse artists disrupt and subvert the traditional binary system of gender. In turns joyful, disturbing, and deliberately ambiguous, these artworks expose the theatricality involved in our everyday performance of gender roles."
'The Self & the Other – Portraiture in Contemporary Indian Photography'
,
Artium Basque Centre-Museum of Contemporary Art, Spain, curated by Devika Daulet-Singh and Luisa Ortínez, closes February 7, 2010.
'Incursions – Contested Spaces'
,
Seven Art Gallery, New Delhi, curated by Heidi Fichtner, January 15 – February 14, 2010.
'Where Three Dreams Cross: 150 Years of Photography from India, Pakistan and Bangladesh'
, Whitechapel Gallery, London, January 21 – April 11 2010.
'Progress Reports: art in an era of diversity'
,
Iniva (Institute of International Visual Arts), London, January 27 – 13 March 2010.
Related link