Florine Stettheimer Retrospective in Munich

Panel debate about the Florine Stettheimer retrospective. Video by Art Basel
Florine Stettheimer Retrospective in Munich
Early American modernist painter, salonière, set designer and poet Florine Stettheimer(1871 – 1944) was living for a period of her life in Munich, Germany. The Städtische Galerie im Lenbachhaus und Kunstbau, Munich is now presenting the first retrospective exhibition of Florine Stettheimer's work in Europe. The exhibition 'Florine Stettheimer' runs through January 4 2015. The exhibition is accompanied by a catalogue:
Florine Stettheimer
by Matthias Mühling (Editor), Karin Althaus (Editor)
Publisher: Hirmer Publishers (November 15, 2014)
ISBN-10: 3777422649
ISBN-13: 978-3777422640
Amazon's description of the catalogue/well-illustrated hardback art book reads: "Florine Stettheimer (1871–1944) was among the most fascinating artists on the New York arts scene during the first half of the twentieth century, and the painter and poet counted among her fans Andy Warhol and Marcel Duchamp, who organized a retrospective of her work at the Museum of Modern Art(in 1946 ed.).
With a longstanding interest in beauty contests and celebrity, Wall Street and consumer culture, Stettheimer anticipated in her work many of the same interests that would later characterize Pop Art, and her synthesis of the arts and urban life remains a source of inspiration for many artists working today."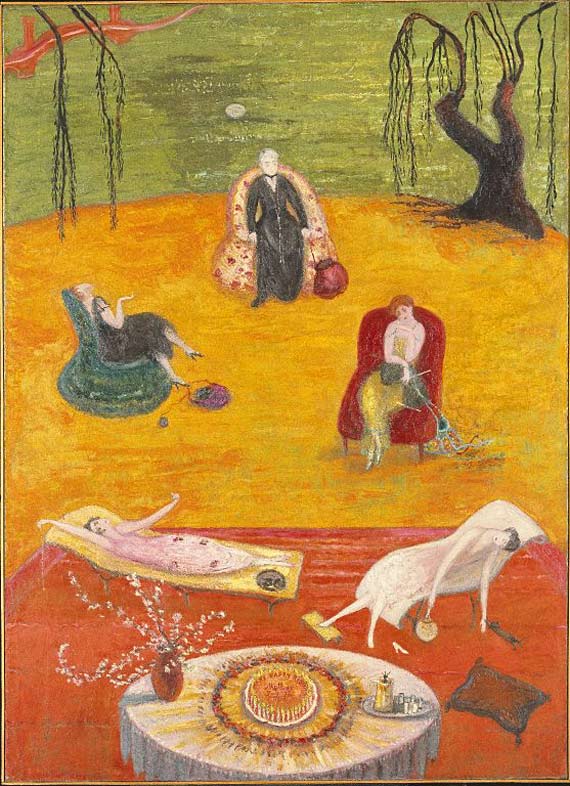 Heat, c.1919, by Florine Stettheimer courtesy of the Brooklyn Museum.
Florine Stettheimer (1871 – 1944)
Wikipedia reads: "Stettheimer studied for three years 1892 to 1895 at the Art Students League of New York. (…) From 1915 to 1935, she and her sisters Ettie and Carrie hosted a salon "for the contemporary literati, gay and polyglot New Yorkers and European expatriates".In October 1916, the only solo exhibition of her work during her lifetime took place at Knoedler & Company in Manhattan, curated by Marie Sterner. She exhibited twelve "high-keyed, decorative paintings", none of which were sold. From (… then on) year after year, over a period of two decades, Stettheimer entered her work (only) at the Annual exhibitions of the Society of Independent Artists. She also continued to refine her style in rendering highly personal self-portraits, including a self-portrait in the nude, and group portraits that included her own family. She also prepared a number of well known portraits of Marcel Duchamp that were fueled by desire and explore androgyny and doubling."