Kim Leutwyler – First Time Archibald Finalist
Press release by Kim Leutwyler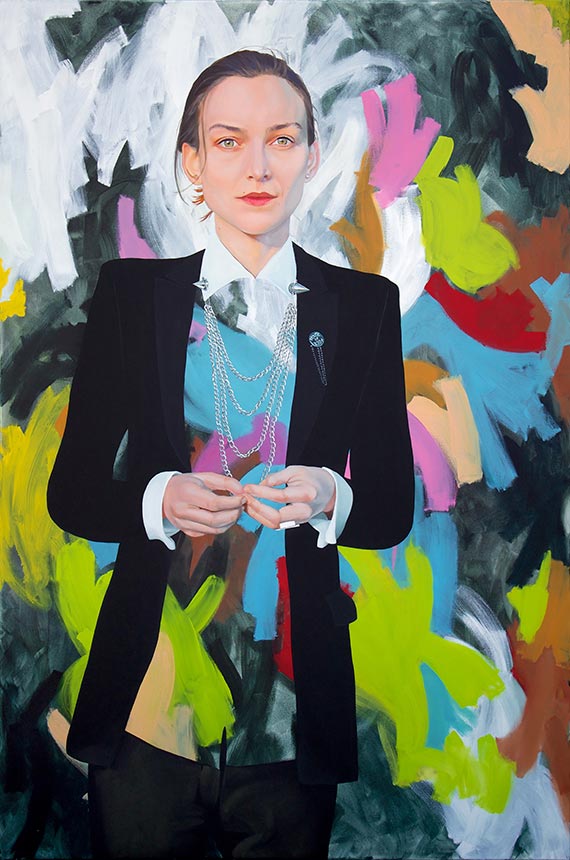 'Start the Riot', Oil on canvas, 152 cm x 102 cm by Kim Leutwyler
First Time Archibald Finalist Paints:
Activist, Designer and Model, Ollie Henderson
[SYDNEY, Australia July 9th] Artist Kim Leutwyler is counted among the 50 finalists for this year's Archibald Prize, having submitted a portrait of activist, designer and one of Australia's top models, Ollie Henderson.
A friend of the artist, 24 year old Henderson has received global recognition for founding fashion label and youth empowerment project House of Riot. Henderson's project started in the form of 100 hand painted T-shirts with positive political slogans worn by her friends in between runway shows at Mercedes Benz Fashion Week Australia, 2014. It soon became a fully-fledged fashion label designed to address social issues such as equality, environment and economic status. Having already graced the cover of major publications like Vogue and Style as a model, Henderson's House of Riot project has been featured in US Vogue, Us Harper's Bazaar, French Elle, Brazilian Elle, Nylon Japan and her May 2015 Ted-x talk at the Sydney Opera House.
How Kim Leutwyler Approached the Portrait
Leutwyler is known for her paintings of LGBTQ-identified and Queer-allied women, most recently focusing on her friends and partner. Her work explores the line between glorification, objectification and modification, using patterns and abstractions from each subject's local and social environment as a subtle vernacular to portray the fluidity and complexities of identity.
"As a feminist member of the LGBTQ community, Ollie speaks openly about the objectification inherent to a career in modeling, and the unrealistic modification of images that set unattainable standards of beauty. She is constantly evolving both in relation and opposition to her social environment, fighting against binary gender standards by taking on various permutations of androgyny. I can't think of a more fitting subject for my work," Leutwyler explains.
Completing the painting took 4 days, spread out over 2 weeks. "On the day I began Ollie's portrait we spent the afternoon at Moore Park so that I could study her from different angles using indirect natural lighting. Afterwards we went back to my home studio where I began painting straightaway." Henderson is currently away for a month-long visit to London and will see the finished work for the first time at the artist/sitter lunch on 16 July 2015 hosted by the Art Gallery of New South Wales.
About the Artist
Born in America, Sydney-based Kim Leutwyler migrated to Australia in 2012. She works in a variety of media including painting, installation, ceramics, print media and drawing. Leutwyler holds concurrent bachelor degrees in Studio and Art History from Arizona State University, and additionally graduated from the School of the Art Institute of Chicago with a Painting and Drawing degree. Her artwork has been exhibited in galleries throughout the United States and Australia, and she is part of a permanent collection at both the Naestved Cultural Center in Denmark and the Brooklyn Art Library in New York. The Archibald Prize will be her first museum show.
About The Archibald Prize Exhibition
First awarded in 1921, The Archibald Prize is Australia's favorite art award and is exhibited annually at one of Australia's most prestigious museums, the Art Gallery of New South Wales. "Awarded to the best portrait painting, it's a who's who of Australian culture – from politicians to celebrities, sporting heroes to artists." – http://www.artgallery.nsw.gov.au/prizes/archibald/
Exhibition Dates/Locations
Art Gallery of New South Wales: 18 Jul – 27 Sep 2015
The exhibition will travel to the following venues:
Ballarat Art Gallery: 2 Oct – 15 Nov 2015
New England Regional Art Museum: 20 Nov – 10 Jan 2016
Tweed River Art Gallery: 15 Jan -28 Feb 2016
Manning Regional Art Gallery: 5 March – 17 April 2016
Lake Macquarie City Art Gallery: 23 April – 5 June 2016
Blue Mountains Cultural Centre: 11 June – 24 July 2016