Los Angeles: KillJoy's Kastle: A Lesbian Feminist Haunted House
Press release by Allyson Mitchell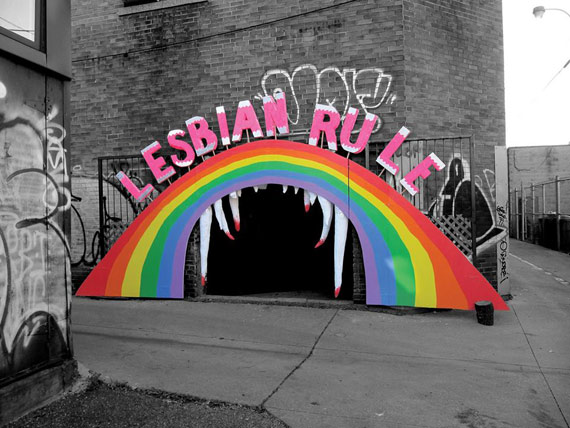 Photo couresy of Allyson Mitchell
KillJoy's Kastle: A Lesbian Feminist Haunted House
October 16-30, 2015
Plummer Park, West Hollywood
Long Hall
1200 North Vista Street
West Hollywood, CA 90046
OPENING Friday, October 16, 2015, 5:30-9:30pm
CONTINUES from 6:30-9:30pm Saturday and Sunday, October 17 & 18; Thursday-Sunday, October 22-25; and Wednesday-Friday, October 28-30, 2015.
Lesbian Rule
Forget the dead this Halloween.
Feel the pulsing throb of something larger than life in KillJoy's Kastle.
Each Halloween radical evangelical groups build hell houses. These performer-animated installations showcase a gruesome retribution for the sins of fornication, abortion, suicide, occultism, and—of course—same-sex relationships. This Halloween, Toronto based-artists Deirdre Logue and Allyson Mitchell reclaim this hellish scenario with their sex positive, trans inclusive, queer lesbian-feminist-fear-fighting celebration KillJoy's Kastle: A Lesbian Feminist Haunted House organized by ONE Archives in West Hollywood. Designed to pervert, not convert, this haunted house of freaky feminist skill sharing and paranormal consciousness-raising reanimates the archive of lesbian herstory with all its wonders and thorny complications. Expect horror.
Holey Hell House!
Dare to be scared by gender-queer apparitions, ball-busting butches, and never-married, happy-as-hell spinsters. Get down on riot ghouls and radical vampiric grannies while channeling your inner consciousness hell-raiser. Each evening of nightmarishly non-assimilated lesbian mayhem will include multiple live performances, bands, video projections, and much more fun too frightening to reveal…just yet.
Deep Lez becomes Creep Lez—Just in time for Halloween
(Insert witchy cackle here)
Follow your demented women's studies tour guide through the glorious and grisly KillJoy's Kastle. Groups are welcome, especially the unruly kind. This ground-up, maximalist, not-to-be-missed haunted house—nailed, knit, and glued by a coven of dedicated feminists—provides a rare glimpse into this dystopic/utopic craftivist world-view.
To book viewing appointments or class tours of KillJoy's Kastle, please contact David Frantz at defrantz@usc.edu. Please note, October 16 through 25 an ASL interpreter will be available for visitors.
KillJoy's Kastle includes a fully stocked gift shop for all undead lesbian shoppers organized by Otherwild.
KillJoy's Kastle: A Lesbian Feminist Haunted House originated in collaboration with, and through financial support of, the Art Gallery of York University (AGYU), Toronto. Support for this presentation of the KillJoy's Kastle is provided by the City of West Hollywood through its Arts and Cultural Affairs Commission. Additional support is provided by The Andy Warhol Foundation for the Visual Arts and the ONE Archives Foundation.