Weird And Poecital Camera Performances By Deirdre Logue
Text by Birthe Havmoeller. Film stills by Deirdre Logue.
We are what we do again and again, or the things we do again and again make us, who we are. Our creativity is a manifestation of the  obsessions / fascinations that we hold as our dreams and somewhat later materialize as our body of works. The repetition of certain acts and thoughts are an integral part of our identity. Sometimes we are conscious  of our repetitions and use them to our own benefit at other times the repetitions turn in to psychosomatic illnesses.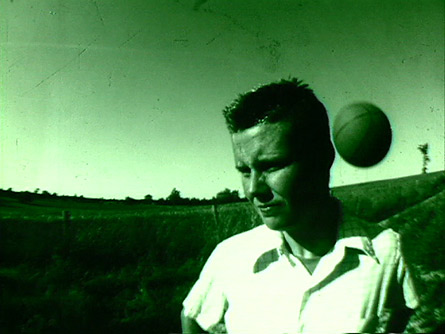 Still from 'Moohead', a video by Deirdre Logue, 2000
Canadian filmmaker Deirdre Logue project 'Enlightened Nonsense' (22 minutes, 2000) is a series of 10 short films about repetition. Watching clips of her short films, I feel that my cultural and visual apathy are challenged. This is not mainstream art videos (!) and I feel uplifted and inspired. Not inspired to go ahead and do similar self-investigations and confessions to a camera as she does, but never the less inspired. Inspired to go and repeat what I do best.
 
Her films are weird, queer and poetic at the same time. The concept of  'wounds' – especially psychic wounds reoccur several times in her works.  See for example the video 'Moohead' in which she is hit by a ball in the head several times. I may wonder what the deeper meaning of this art video is, but if I didn't notice the ball the first time, then Deirdre pounds it in to my head and gives me a spoonful of a sweet dessert to make me swallow the message. – You can see clips from Deirdre's experimental videos on deirdrelogue.com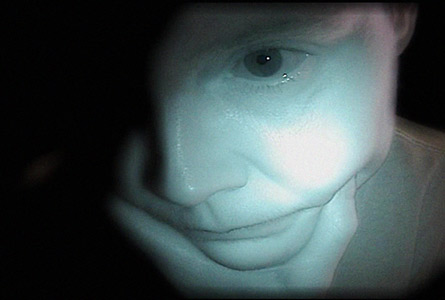 Still from 'Eclipse', a video by Deirdre Logue, 2006
In Deirdre's suite of works 'Why Always Instead of Just Sometimes' (33 minutes, 2006), she has developed an intimate relationship with her video camera, which she focuses on her inner self. She makes solo camera performances, by which she explores her body both physically, emotionally and metaphorically – the art video 'Eclipse' (from 'Why Always Instead of Just Sometimes') shows her preoccupation with cracking her jaw.
 
As an extension of her art practice, Deirdre Logue has been involved Canada's experimental media communities for the last couple of decades, working on behalf of artists by organizing independent film, video and new media festivals and by participating in forums and symposiums on the future of independent artistic practice and media art distribution. Currently she is the Development Director for Vtape and is based in Toronto.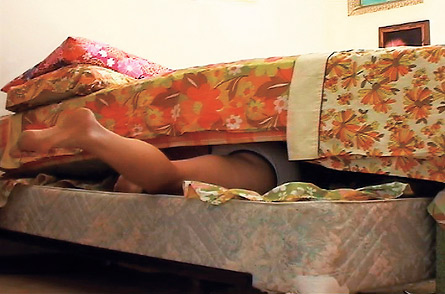 Still from 'Beyond Her Usual Limits, Part I', a video by Deirdre Logue, 2006