'Res publica' by Laura Lilja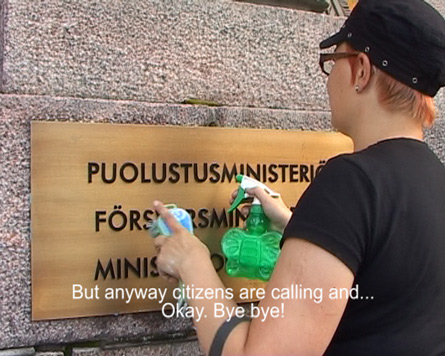 Film still from 'Res publica' by Laura Lilja
 
Laura Lilja is a queer visual artist based in Finland. She earned her Master of Arts from University of Art and Design in Helsinki, Finland in 2004 and she is currently working as deputy rector of Pori School of Fine Arts. On March 10, 2010 at 19:30 hrs Århus Kunstbygning, Århus, Denmark, will be screening Laura's art videos 'Res publica'.
Laura tells about her artworks: "With my conceptual installations and sculptures I study social power structures, gender, sexuality and differences between sets of values in and through art. My works are based on queer-theories, postfeminism and activism.
I'm interested in the interaction between art and society and the political nature of art. Feministic, queer, lesbian and gay art, art activism, relation between public and private and the role of the spectator are other interesting issues."
And she continues about her art video: '"Res publica" (2008, duration 7 min 34 s) is a documentation of a sculpting project that was done in public space. The film shows how I made moulds of the name signs of the Finnish ministries in public space and what kind of reactions I got during the project. The film studies the power structures in the community and the relation between an individual, especially an artist, and society'.
Related Link
Visit Laura Lilja's Personal Art Museum – Museum of Political, Feministic and Queer Art