San Francisco – Curators Walkthrough of Zeitgeist
Zeitgeist
Curator/Artist Walkthrough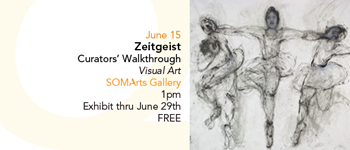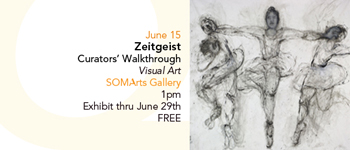 SOMArts Gallery
San Francisco, USA
June 15, 1pm
Zeitgeist is the Nationa Queer Arts Festival's visual arts group exhibtion. Curators for the exhibition include Jacqueline Francis, Josh Faught, Jordy Jones, Rudy Lemcke, Matt McKinley, Pam Peniston and Tina Takemoto. They say about theme and title of the exhibition, 'Scholars have long maintained that each era has a unique spirit, a nature or climate that sets it apart from all other epochs. In German, such a spirit is known as "Zeitgeist," from the German words Zeit, meaning "time," and Geist, meaning "spirit" or "ghost." Some writers and artists assert that the true zeitgeist of an era cannot be known until the era is over, and several have declared that only artists or philosophers can adequately explain it.' The exhibition runs thru June 29, 2013.
Participating Artists
Bren Ahearn, Esteban Partida Ayala, Sarah Barnard, Micah Bazant, Alexei Biryukoff, Marconi Calindas, Esra Canogullari, Alberto Condotta, Robert Cortlandt, Yvette Deas, Leah DeVun, Ariel Dunitz-Johnson, Rami George, Hilary Goldberg, Nicole Hall and Benjy Blanco, Matthew Lambert, Cristiano F. Lopes, Mox Mäkelä, Elizabeth "Oscar" Maynard, Aaron McIntosh, Rosa Middleton, Kait Mooney, Allie Phillips, Piyarat Piyapongwiwat, Emmett Ramstad, Tommy J. Reyes, Gregory Farrar Scott, Kevin Simmonds, Ariel Springfield, Diego Terros, Amanda Verwey, Kate Walker, Eva Weiss and Angie Wilson.
Related Links
Artist statement by Leah DeVun
Finnish Avant-garde Filmmaker, artist showcase about Mox Mäkelä