Eco-activists Annie Sprinkle and Beth Stephens
Press release by Femina Potens

Earthy. Performance by Annie Sprinkle and Beth Stephens
EARTHY – AN ECOSEX BOOT CAMP
Co-presented by Queer Cultural Center Center for Sex and Culture
June 13th – 16th and 20th – 23rd at
Center for Sex and Culture
1349 Mission St.
San Francisco, CA
94103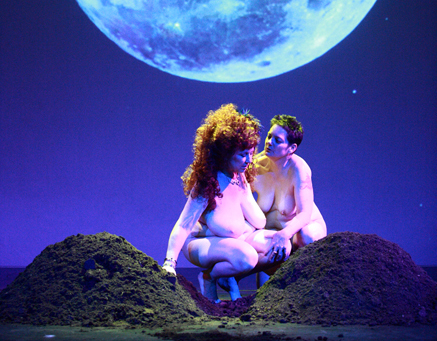 EARTHY is a part of the National Queer Arts Festival 2013. Sponsored by Femina Potens Art Gallery and the Center for Sex and Culture.
SAN FRANCISCO, CA. Beth Stephens and Annie Sprinkle aim to get an 'E' added to the 'GLBTQI' moniker. E is for ecosexual. They also want to make eco-activism more enticing, as well as expand people's notions of what sexuality can be. "In Earthy—An Ecosex Boot Camp, we will shift the metaphor from 'Earth as mother' to 'Earth as lover,' which will hopefully be a paradigm changing experience for our audience" the women explain."By the time people leave the show, they will likely realize they are ecosexual too."
When Stephens and Sprinkle learned more about the environmental crisis, they saw red and went green. Today they are serious environmental activists, and two of the most visible movers and shakers in the budding international ecosex movement. They even wrote the Ecosex Manifesto! Describing San Francisco as "the clitoris of the USA, and the hotbed of the ecosex arts movement," their show is largely funded with support from a San Francisco Arts Commission Cultural Equity Grant, a Theater Bay Area CASH award, as well as grants from UCSC, where Beth Stephens teaches art. Patty Gallagher, who is also at UCSC, directs the show.
Describing their new performance piece, they say they will utilize humor, queer strategies, lots of dirt, and an intensely physical performance involving compost toilets, a bon fire, and a dramatic soundscape performance by Tony's Circus of the Fresh Juice Party. Lighting design is by Shelia Malone, and graphic design concepts are by Kern Toy. Stephens and Sprinkle will also utilize their naked bodies as tools of resistance on stage. They point out that, "People are part of, not separate from, nature. Therefore all sex is actually ecosex."
The Center for Sex & Culture will be transformed into an "Ecosex Bootcamp," with a host of sexy camp counselors. Audiences are invited to bring their cameras and can pose on the stage with the props after the show. The performance will climax with a bondage inspired protest, group wedding vows to the Earth, and a call and response to the question, "What in nature turns you on?"
About Femina Potens
Femina Potens is a nationally recognized non-profit arts organization, established in 2000, and dedicated to the advancement of LGBTQ & Allied Artists and Communities. Femina Potens is a leading queer organization in San Francisco and in 2012 launched new programming in NYC and Los Angeles.
Related Links
Beth's Ecosex Herstory
Annie's Ecosex Herstory