Screening with 16mm Films by Barbara Hammer
Press release by JULIA STOSCHEK COLLECTION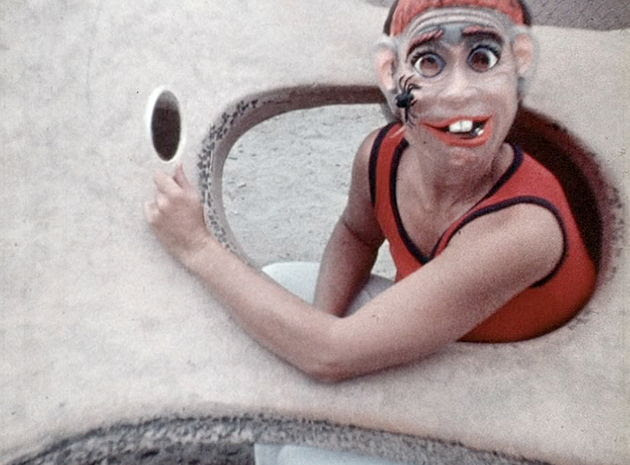 Barbara Hammer, "X", 1975, 16mm film, 8 min, colour, sound. © Barbara Hammer. Courtesy of Barbara Hammer and KOW, Berlin
STUDIO 54 film programme
To accompany the exhibition NUMBER TWELVE: HELLO BOYS, the JULIA STOSCHEK COLLECTION will be showing a screening with a selection of 16mm films by US-American artist Barbara Hammer on June 27, 2016.
MONDAY JUNE 27, 2016, 7:30 p.m.
Barbara Hammer
I Was / I Am, 1973
16mm film, 6:30 min., b/w, sound
Barbara Hammer
Menses, 1974
16mm film, 4 min., colour, sound
Barbara Hammer
"X", 1975
16mm film, 8 min., colour, sound
Barbara Hammer
Double Strength, 1978
16mm film, 16 min., colour, sound
Barbara Hammer
Optic Nerve, 1985
16mm film, 16 min., colour, sound by Helen Thorington
With an introduction by curator and author Alexander Koch, KOW, Berlin
Barbara Hammer
was born in Hollywood in 1939. Her documentary and experimental films are considered among the earliest and most extensive representations of lesbian identity, love, and sexuality. Accompanying her career as a filmmaker, Hammer has time and again worked with performance and installation. She has participated in group exhibitions such as the Whitney Biennial in 1993 and the WACK! show at MOCA L.A. and MoMA PS1 in 2007/2008. With film retrospectives at New York's MoMA in 2010 and the Tate Modern, London, in 2012, the art world's interest in Hammer's work has recently increased. Hammer has been a teacher for many years, she currently holds a professorship at the European Graduate School in Saas-Fee (CH). She lives and works in New York.
Alexander Koch
born in 1973, curator and author, studied Fine Arts. From 2000 to 2005 he lectured at the Academy of Fine Arts Leipzig. He co-founded Galerie KOW in Berlin in 2008, since which time he has also been co-initiator and Chairman of New Patrons in Germany. He has been initiating New Patrons projects in Nigeria, Cameroon, India and other countries since 2013. As a theorist Koch has written, among other things, important texts on exiting the art world and the internal differentiation of the world of art.
ENTRANCE FREE OF CHARGE

JULIA STOSCHEK COLLECTION 16mm movie theater, Schanzenstrasse 54, 40549 Düsseldorf
, Germany
Parallel the current exhibitions NUMBER ELEVEN: CYPRIEN GAILLARD and NUMBER TWELVE: HELLO BOYS are open from 6 p.m. onwards.
---
Tagged Artists in This Post:
---