SD Holman Nominated For YWCA Women Of Distinction Award
Press release by Queer Arts Festival, Vancouver, BC (9 May, 2014).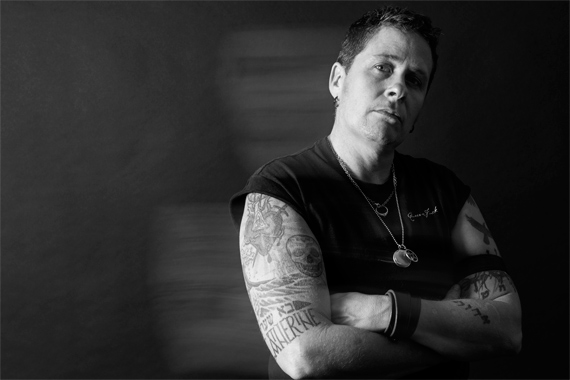 Portrait of SD Holman
Pride in Art is delighted to announce that Artistic Director SD (Shaira) Holman has been nominated for a YWCA Women of Distinction Award. Recognized nationally as one of Canada's most prestigious awards, the Women of Distinction Awards honours women whose outstanding achievements contribute to the well-being and future of our community.
The nomination comes during Holman's one-year sabbatical from QAF to focus on her own art. Her new book BUTCH: Not like the other girls will be launched June 12 at 7pm at Little Sister's Book and Art Emporium (1238 Davie Street). A photographic exploration of the liminal space occupied female masculinity in queer communities, BUTCH recently returned from a triumphant showing in Easthampton, Massachusetts, where the opening attracted over 600 patrons after a wildly successful Kickstarter campaign. The exhibition will tour to San Francisco, Boston and Toronto this Fall. BUTCH debuted as public art in twenty transit shelters around Vancouver and at the Vancouver East Cultural Centre in Spring of 2013. The Cultch described the opening as the largest in their 35-year history.
"All of us at QAF are so proud of Shaira for receiving this nomination," enthused Acting Artistic Director Rachel Iwaasa. "This is a tremendous recognition both for her work as an artist and in her role as Queer Arts Festival's AD."
SD Holman is a photo-based artist and Artistic Director of The Queer Arts Festival, a professional three-week, transdisciplinary arts festival in Vancouver, Canada. Holman has exhibited internationally at galleries including the Advocate Gallery (Los Angeles), the Soady-Campbell Gallery (New York), the San Francisco Public Library, The Helen Pitt International Gallery, Charles H. Scott, Exposure, Gallery Gachet, the Roundhouse, Vancouver East Cultural Centre, Artropolis, and Fotobase Galleries (Vancouver).
The YWCA Women of Distinction Awards
Tuesday June 3, 2014, 6:30PM
Westin Bayshore Hotel
http://ywcavan.org/content/2014_Nominees__Art__Culture___Design/1816
Book Launch at Little Sister's
Thursday, June 19, 2014, 7PM
1238 Davie Street
Vancouver, British Columbia
http://littlesisters.ca