'Sea School' by Tess Sheerin
Text: Kate Bambury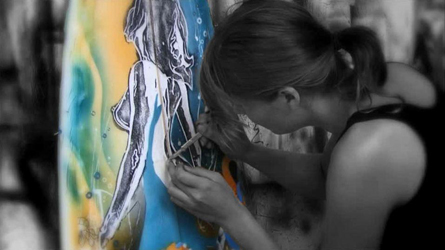 Tess Sheerin in her studio
St Ives, UK, is Cornwall's artistic hub, and is pretty much a sanctuary for artists. Here, in a rather unique set up of Higher Bussow Farm Studios is where I find Tess Sheerin: self-taught Kiwi/Brit artist and board sports junkie.
Influenced by a fusion of favourite artist MC Esher, Japanese art, street graffiti and the old-school surrealist movement, Tess' art captures and enchants, whisking the viewer away to the heady realms of magic, lust and curiosity. Upon the walls of her studio I discover a weird and wonderful display of scribbles, sketches, illustrations and paintings. Some are old projects, and others snippets of inspiration, but what clearly stand outare a series of old and broken surfboards that have been recycled and each had an extreme makeover!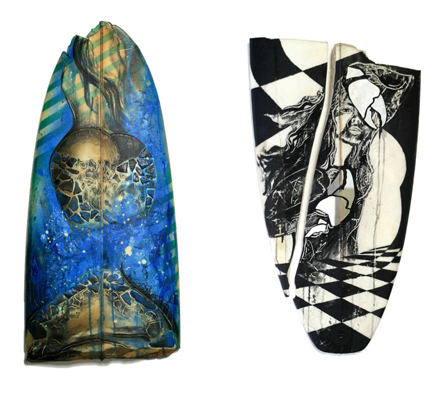 Sculptures from the 'Sea School' project by Tess Sherrin:
'Sexy Fish Lady', Surfboard, slate, charcoal, airbrush, airbrush, 54cm x 115cm [left] and 'Glass Lass', Surfboard, charcoal, blackboard paint, glass, 50cm x 91cm [right].
'Sexy Fish Lady' was the first," Tess says, as she points to a mal surfboard that appears to facade a voluptuous mermaid diving into the water. Her scales are made from a combination of slate and charcoal engraving, while her arse is the centre point of the board and oozes an erotic element in shape, texture and colour.
"The idea came to me after a surf one day," Tess explains. "I discovered an old board beside a tip that was snapped in half and beat up. When I peeled off the fibreglass, I found the watermarks left on the foam underneath from our trademark Cornish weather were amazing!" And like that, 'Sexy Fish Lady' was born.
Tess unveils a little of her background, explaining how she left behind an art school scholarship in her hometown of Christchurch NZ, and some of the best snowboarding terrain in the world to come to the UK. "Choosing to uproot my life and move to the UK to pursue my art, and basically start from the beginning again was a huge change for me. But the art scene is in Europe or America, and I had to go for it or I knew I would regret it forever.
"I started out in wacky Brighton, I loved many things there but felt no real connection… I just found myself treading water in a sea of poor budding creatives. Cornwall though, reminded me of my roots."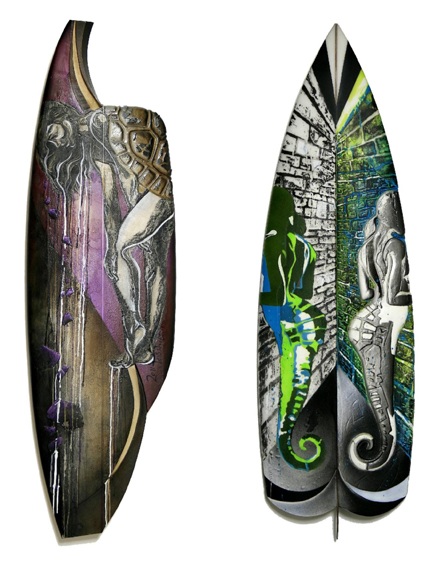 Sculptures from the 'Sea School' project by Tess Sheerin:
'Hibernation', Surfboard, slate, charcoal, carving, airbrush, 53cm 175cm [left] and 'Brick Deep', Surfboard, stencil, airbrush, carving, charcoal, paint pens 46cm x 149cm [right].
Tess' style works perfectly with this medium the recycled surfboards, resulting in a unique mash-up of sensuality, eroticism and found art. The surf series, appropriately titled 'Sea School', probably incorporates more graphic design techniques than her previous works, although all of Tess' myriad skills are used to vivid effect. Airbrushing, charcoal, mark-making, stencilling, carving, collage, and glass cutting are all on display, and in top form. "Creating keeps me sane," Tess announces. "If I don't have a balance of sport and art happening in my life, I go crazy and get all wound up, and sometimes feel depression getting its hands on me. This surf project has returned a real sense of harmony and balance to my life. "
'Sea School' will be on display in a number of exhibitions throughout the UK in 2011. Don't miss out on seeing this bold new project from Tess Sheerin:
9th July – 1st September, McAllister Thomas Fine Art, Surrey
15th July – 15th August, The Gallery Newquay, Cornwall
17th August – 31st August, Belgraves St Ives, Cornwall
1st November – 30th November, Graffik Gallery, London.