Zanele Muholi: Isibonelo/Evidence
Press release by Brooklyn Museum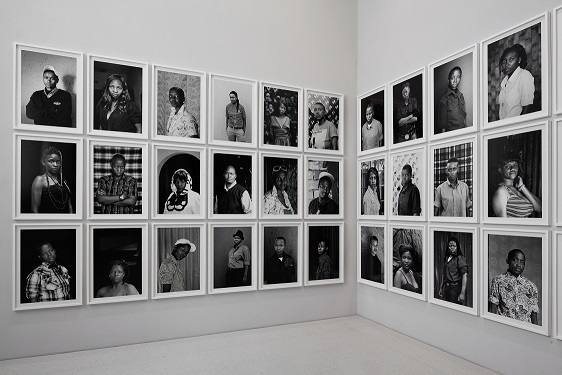 Zanele Muholi (South African, born 1972). Faces and Phases installed at dOCUMENTA (13), Kassel, Germany, 2012. (Photo: © Anders Sune Berg)
Brooklyn Museum Presents Zanele Muholi: Isibonelo/Evidence
The largest U.S. Museum Exhibition of the South African Photographer's Work, May 1, 2015, through November 1, 2015.
Zanele Muholi: Isibonelo/Evidence is the most comprehensive museum exhibition to date in the United States devoted to the critically acclaimed South African artist and activist Zanele Muholi. Through her work in photography, video, and installation, Muholi has dedicated herself to creating visibility for the black lesbian, gay, bisexual, transgender, and intersex (LGBTI) communities of South Africa.
This presentation, which includes eighty-seven pieces created between 2007 and 2014, features the renowned Faces and Phases series, an ongoing portrait project that documents the breadth of identities contained within this community. It also presents Muholi's video Being Scene, which focuses on intimacy and daily life within her circle. Also featured is the Weddings series, which captures in photographs and video the joyful same-sex unions of her friends.
Born in 1972 in Durban, South Africa, the youngest of five children, Muholi is a tireless community organizer as well as a respected artist committed to sharing the voices of the South African LGBTI community with the wider world. In the Faces and Phases series, in particular, she uses firsthand accounts to speak to the experience of living in a country that constitutionally protects the rights of LGBTI people but often fails to defend them from targeted violence. Muholi is the recipient of several important international awards, including the 2013 Carnegie International Fine Prize.
Zanele Muholi studied at the Market Photo Workshop in Johannesburg in 2003 and held her first solo exhibition at the Johannesburg Art Gallery in 2004. In 2009, she was awarded her Master of Fine Arts degree from Ryerson University in Toronto, where her thesis mapped the visual history of black lesbian identity and politics in post-apartheid South Africa. She began her career as a photographer for an online magazine covering LGBTI issues in Africa. She has researched and documented the stories of hate crimes against the gay community since 2002.
Muholi launched her visual activism with her first solo exhibition, Visual Sexuality: Only Half the Picture, at the Johannesburg Art Gallery in 2004. Since then she has exhibited in Nigeria, Vienna, Cape Town, Milan, London, and Amsterdam and has been included in group exhibitions in Toronto, the Netherlands, Atlanta, England, São Paulo, Lagos, Rome, and various other locations. In 2009, she founded Inkanyiso, a nonprofit organization concerned with visual activism for and on behalf of the LGBTI community. In 2010, she co-directed the documentary Difficult Love, which has been shown around the world. She exhibited Faces and Phases at the Ryerson Image Center in 2014.
Zanele Muholi: Isibonelo/Evidence is organized by Catherine J. Morris, Sackler Family Curator for the Elizabeth A. Sackler Center for Feminist Art, with Eugenie Tsai, John and Barbara Vogelstein Curator of Contemporary Art, Brooklyn Museum.
Exhibition support is provided by Tracey, Phillip, and Enoch Riese
Related Links
Pride and prejudice: How Zanele Muholi documents South Africa's LGBTI community – an article by BBC Arts, April 2015
Brooklyn Museum Presents Photographer Zanele Muholi's Isibonelo/Evidence – an article by By T'kay/DapperQ, April 2015