Zanele Muholi – SOMNYAMA NGONYAMA
Press Release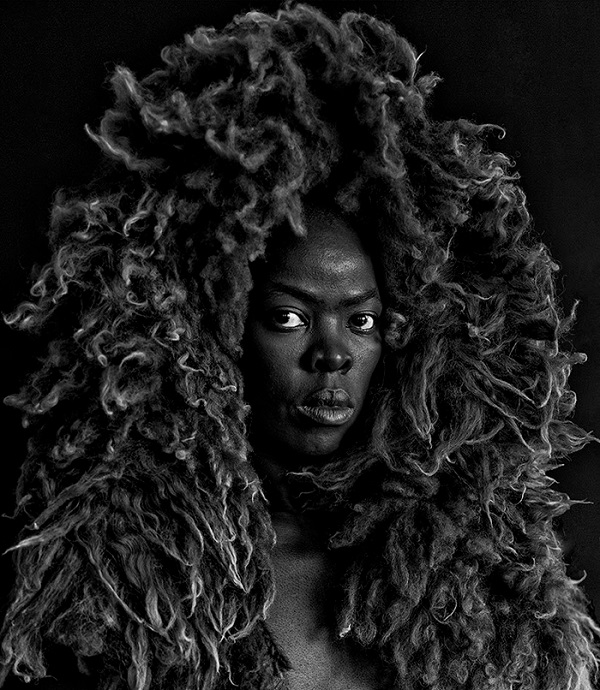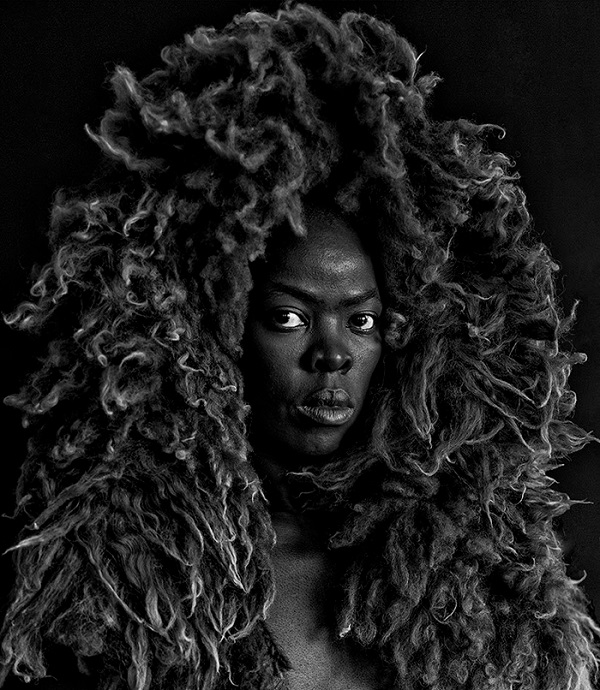 Self portrait from SOMNYAMA NGONYAMA by Zanele Muholi, 2015.

ZANELE MUHOLI – SOMNYAMA NGONYAMA
19 November – 19 December, 2015
4 January – 29 January, 2016
STEVENSON GALLERY
62 Juta Street
Braamfontein 2001
JOHANNESBURG, South Africa
The exhibition opens on Thursday 19 November, from 6-8pm.
Muholi will give a walkabout of her exhibition on Friday 20 November at 1pm. Entrance is free and all are welcome.
STEVENSON GALLERY is Pleased to Present:
Zanele Muholi's new exhibition of photographs, Somnyama Ngonyama.
In contrast to her life-long project of documenting members of the black LGBTI community of South Africa, for this body of work, Muholi turns the camera on herself.
As she presents black and white self-portraits taken while travelling in South Africa, America and Europe, Somnyama Ngonyama (meaning 'Hail, the Dark Lioness') confronts the politics of race and pigment in the photographic archive, while commenting on specific events in South Africa's political history, such as the Marikana massacre.
The series references black and white portraiture and fashion photography, with Muholi dressed in different outfits as she takes on various personas. She writes:
"Experimenting with different characters and archetypes, I have portrayed myself in highly stylised fashion using the performative and expressive language of theatre. The black face and its details become the focal point, forcing the viewer to question their desire to gaze at images of my black figure.
"By exaggerating the darkness of my skin tone, I'm reclaiming my blackness, which I feel is continuously performed by the privileged other" – Zanele Muholi, 2015
Along with these self-portraits, the exhibition features a series of 12 photographs from Muholi's ongoing essay titled Brave Beauties. Continuing her renowned practice of photographing members of the black South African LGBTI community, this collection of black and white images is a celebratory look at the body and recalls Muholi's own second place win at Ms Sappho contest in Johannesburg in 1997.
Brave Beauties was taken in 2014, South Africa's 20th anniversary of democracy, and acknowledges the radical transformation of South African society even though many shadows remain, especially in terms of crimes against the LGBTI community.
About Brave Beauties, Zanele Muholi says:
"Each person is striking their own confident pose, expressing and claiming their femininity and affirming their existence and love for looking beautiful. Most of the participants have won Miss Gay beauty pageants in their communities. The contest takes place in various locations around South Africa, especially in the townships, as a way of creating awareness through cultural activities – drag performance, music and dance."
Exhibitions and biography
Zanele Muholi has a solo exhibition, Zanele Muholi: Vukani/Rise, Open Eye Gallery, Liverpool (18 September – 29 November 2015).
Current group exhibitions include: Où poser la tête? at FRAC Réunion, Reunion Island (6 November 2015 – mid-January 2016); After Eden / Après Eden – The Walther Collection at La maison rouge, Paris (17 October 2015 – 13 March 2016); Making Africa. A Continent of Contemporary Design at Guggenheim Bilbao (30 October 2015 – 21 February 2016); Material Matters: New Art from Africa at Institute of Contemporary Art Indian Ocean, Port Louis, Mauritius (8 September – 27 November 2015); and History, Art, Architecture and Design: 80s to Today, Pompidou Centre, Paris (2 July 2014 – 11 January 2016).
Zanele Muholi has won numerous awards including the Fine Prize for an emerging artist at the 2013 Carnegie International; a Prince Claus Award (2013); the Index on Censorship – Freedom of Expression art award (2013); and the Casa Africa award for best female photographer and a Fondation Blachère award at Les Rencontres de Bamako biennial of African photography (2009). Her Faces and Phases series has shown at, among others, Documenta 13; the South African Pavilion at the 55th Venice Biennale; and the 29th São Paulo Biennale. She was shortlisted for the 2015 Deutsche Börse Photography Prize for her publication Faces and Phases: 2006-14 (Steidl/The Walther Collection). Muholi is an Honorary Professor of the University of the Arts, Bremen.
STEVENSON GALLERY is open from Monday to Friday, 9am to 5pm, and Saturday 10am to 1pm.
The gallery will be closed from 20 December 2015 to 3 January 2016.