Barbara Hammer – Lesbian Whale: Early Drawings and Paintings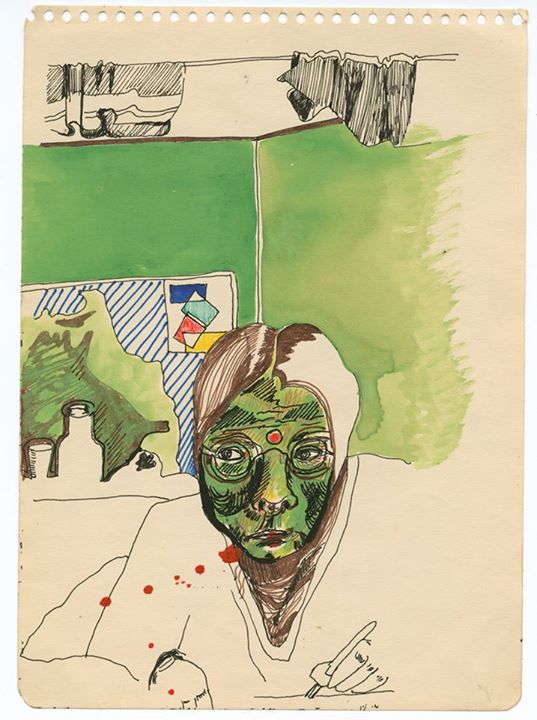 Untitled 1, 1969. Courtesy of Barbara Hammer and Company Gallery.
Barbara Hammer
Lesbian Whale: Early Drawings and Paintings
September 13 – October 11, 2015
Opening Reception: September 13, 6-8 pm
Company Gallery
88 Eldridge Street, 5th Floor, New York, New York 10002, USA
Barbara Hammer's Lesbian Whale: Early Drawings and Paintings presents previously unseen works on paper from 1968 to 1970 alongside her first five films, all of which were made between 1968 and 1972. Hammer also completed a new film for the exhibition that animates her early notebooks with voiceover commentary by friends and peers. These previously unseen drawings and paintings were made at a crucial turning point in Hammer's early work, both before and after she left her husband to pursue a career in art and film. In these drawings and paintings, the first seeds of Hammer's later film and performance works emerge alongside self-portraits, sketches, notes on future films, and drawings of the world around her.
Barbara Hammer is a pioneering experimental filmmaker who has worked across disciplines. She has had retrospectives at the Jeu de Palme (Paris), Museum of Modern Art (New York), Tate Modern, and Toronto Film Festival. A retrospective of her work is forthcoming at the Pink Life Queer Festival in Ankara and Istanbul, Turkey. Her work was included in the 1985, 1989, and 1993 Whitney Biennials and her work is included in the permanent collections of the Australian Center for the Moving Image, the Museum of Modern Art (New York), the Centre Georges Pompidou, and elsewhere. She is the author of Hammer! Making Movies Out of Sex and Life (Feminist Press 2009). She is a professor at the European Graduate School. She lives and works in New York City and Kerhonkson, New York.