Mary Coble, Queer Artist and Teacher
Text: Birthe Havmoeller, November 29, 2011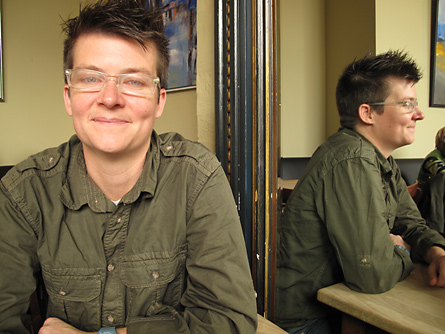 Mary Coble, photo by Birthe Havmoeller
I met artist Mary Coble for coffee and a chat about her practice as a performance artist and a professor at the Funen Art Academy in Odense, Denmark. Mary Coble joined the Funen Art Academy last year.
Mary explains, "I enjoy teaching at the academy because I'm there to offer guidance and support though my own practice and experience as an artist." The Funen Art Academy is situated in Odense, the birthplace of the author Hans Christian Andersen. It has appr. 60 students and is based in the town centre of Odense in the 'Brandts Klædefabrik' (Brandt's Textile Mill), a former industrial building, which was turned into a centre for visual arts in the mid 1980s. Mary is teaching part time the academy, as are all of her colleagues too. She is living in Copenhagen. In this way she gets the better of two worlds – a job at a small but innovative art academy and the cultural life of Copenhagen.
We are sitting in Café Biografen, the cafe of the ground floor art cinema of the Brandts  Klædefabrik. Mary's Academy is on the top floor the building, which also houses Kunsthallen Brandts (The Art Hall at Brandt's) and Museet for Fotokunst (The Museum of Photo Art). All of which make it a unique and inspiring environment in which to teach art. Mary notes that the pace of life seems slower in Denmark than in the USA, which is something that she enjoys. Mary, who was teaching before she came to Denmark, tells me that her experience teaching in Denmark is very different to her experience at a university in USA. The Danish art students get to spend more time in their studios working on their own practice and via the students' council of the academy they have more control of how the academy and their education is formulated. Last spring she gave a workshop on performance and this semester the students asked her to hold a photography-based workshop.
Originally Mary was trained as a photographer and she is happy to share her experiences with the students. As only a few of the students have analogue cameras, she decided that as part of the workshop they would experiment with pinhole photography. In her workshop the students were asked to design their own cameras and take photos which, in part, reflect the design of their camera. Raising her students' awareness about working conceptually when making works of art is a must for Mary Coble. She wants to expand what photography can be and do.
Mary explains: "When I talk about working conceptually for me it means that I have an idea that is my starting point.  As I work I'm open to intuitive moments, discovery and re-formulation that helps shape the final piece. In the end it's important to me that I have laid a foundation where my viewers can explore some of the ideas that I was initially interested in without the work being too didactic that it tells them what to think or how to read the piece. I'm more interested in posing layers of questions that people will react differently to. I do not expect my students to work as I do. I try to support their own ways of working while offering challenges to their practice as well."
The academy doesn't have photography facilities so she and her  students have set up their own darkroom. Alongside the hands-on visual experiments with pinhole photography she exposes her students to fine vintage prints by renowned photographers such as Diane Arbus at The Museum of Photo Art and takes them to see some of the finest quality hand printed Danish photogravures at FotoGrafiske Værksted , Aarhus, and guess what – They love it!
Mary Coble's teaching is workshop based and she tells me that she loves to select texts, and introduce artist's works and creative concepts, which she finds interesting and challenging to understand. She brings her selection of materials to the class for her students to discuss. During the course of this dialog about art they get to learn and inspire each other by sharing their different personal views. She sees herself as a facilitator, who brings interesting and challenging works to the workshop and when teaching she relies on her experience as an artist rather than as an academic. Teaching is a very rewarding experience for Mary Coble. She describes it as a learning process, which helps her as an artist as well.
Mary rarely uses photography in her own work currently. Mainly using live performance, installation, and video in her works she explores social issues such as gender, queerness, power, and the division of basic resources.
Mary explains, "Live art is very exciting to me right now. I enjoy the fact that one has to be present to truly experience the work."
I have spotted that endurance is an essential part of her artistic practice and ask her why art has to be hard work? She doesn't mind her live performances to be hard work, as she experiences something immensely rewarding during and after the process after. When working with her ideas and creative concepts it is important for her that she find the best possible way in which to manifest them and make her live performance as thought provoking as possible.
Remembering the pain which Mary must have felt when she made her Blood Script performance (2008, USA), where she had 75 derogatory words, which she had collected from the public during a prior performance tattooed onto her skin, without ink, I asked, if she would re-perform one of her performances?  Mary's answer was: "Only if it makes sense and there is something intriguing about it. Sometimes it's more challenging and exciting for me to create a new piece." 
This autumn she is be doing a new live performance titled Fighting Cocks in Toronto, Canada and she will be performing Source Dublin: Field of Water  in Dublin, Ireland on December 3, 2011.
Related Links
mccoble.com/