Queer and Trans Art-iculations: Collaborative Art for Social Change
Press release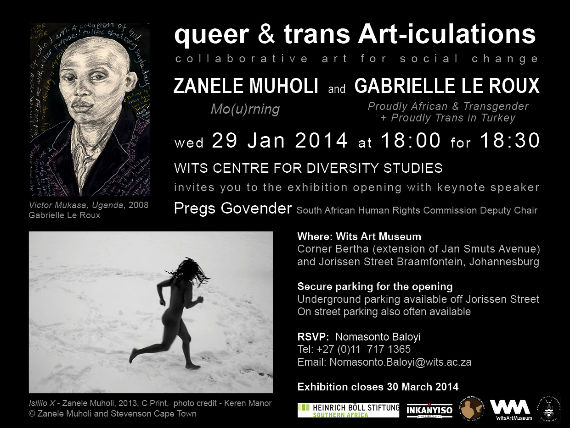 Queer and Trans Art-iculations: Collaborative Art for Social Change
Zanele Muholi and Gabrielle Le Roux
[at WITS ART MUSEUM, University of the Witwatersrand, Johannesburg, South Africa]
Opening Wed 29 January 18h00 for 18h30.
Exhibition dates: January 30 – March 30, 2014
Wits Art Museum, in partnership with Wits Centre for Diversity Studies and Inkanyiso, is proud to announce the exhibition Queer and Trans Art-iculations: Collaborative Art for Social Change. This important project features the work of two visual activists: Zanele Muholi (Mo(u)rning) and Gabrielle Le Roux (Proudly African & Transgender and Proudly Trans in Turkey). The exhibition coincides with the official launch of the Wits Centre for Diversity Studies.
Homosexual and gender non-conforming people are discriminated against, victimised, penalized and criminalized. As insiders and concerned citizens within the LGBTI community who make art, Muholi and Le Roux employ art-activism as a resistance tool and a way to reveal how the LGBTI community exists within society. The works of both artists speak to the complexities, challenges, freedoms and dangers of living beyond the gender binary.
Recently, the Ugandan and Nigerian governments have enacted anti-homosexuality legislation which will put so many citizens in physical danger and deprive them of their freedom of expression and human rights. In Turkey there is a spiraling number of hate murders of Trans women in particular, for the majority of whom sex-work is the only available employment as a result of discrimination and social exclusion. South Africa is notorious for the rampant hate crimes that have claimed so many young lives especially black lesbians residing in the townships. These are some of the issues that the joint exhibition addresses. While Proudly African & Transgender and Proudly Trans in Turkey, are created in collaboration with trans and intersex activists from southern and East Africa, and Turkey, Mo(u)rning engages with the experiences of black lesbians and queer people particularly in South Africa.
For the duration of the exhibition, facilitators who can speak to the issues represented in the work from lived experience will be in attendance to assist with queries and provide impromptu guided tours of the work, free of charge. WAM has also created an interactive space for visitors to respond to the exhibition and share their experiences and thoughts.
Programming and special events:
Artist TALKABOUT with Gabrielle Le Roux, 8 February 12h00
Family TALKABOUT with Leigh Blanckenberg, 15 February 12h00
Artist TALKABOUT with Zanele Muholi, 22 February 12h00
Exhibition facilitators will be available Wed-Sun 10h00-16h00
Opening Night:
Keynote speech by Pregs Govender, Deputy Chair of the South African Human Rights Commission.
Performance by Zanele Muholi on the opening night to begin at 19h00.
For more information, please contact Wits Art Museum on info.wam@wits.ac.za or call 011 717 1378