Spain – GUERRILLA GIRLS 1985-2013 AT ALHÓNDIGA BILBAO
Press release by the Guerrilla Girls, USA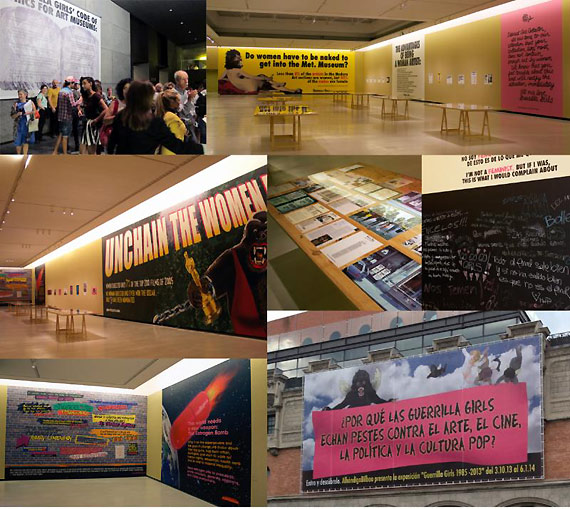 Top: Entry to exhibiiton with Code of Ethics poster / room 2 installation view. Middle: Room 3 installation view / one of 13 tables of ephemera / room 1 interactive wall. Bottom: Hate Speech, Estrogen Bomb projects / street banner on Alhóndiga
¡HOLA DE BILBAO!
Xavier Arakistain, an incredible Spanish curator who is a life-long feminist and GG supporter, has put together a retrospective of 28 years of Guerrilla Girls work at the Alhóndiga Bilbao, a huge cultural center. There are 79 posters in the show, large and small, accompanied by video and 13 tables of correspondence, ephemera, and street photos. We've been looking though our files and discovering smaller projects and letters we hadn't thought about for years. It has been very moving to see all the work together in one huge space. This idea to put up a couple of posters on the streets of New York so many years ago has really added up to something.
Below are more photos from the exhibition, including a gigantic street banner which asks, "Why Are The Guerrilla Girls Talking Trash About Art, Film, Politics and Pop Culture? Come Inside And Find Out." Thousands of people have visited already, hundreds have written on our interactive wall. We also did a workshop with local feminist activists, and took some of the resulting projects to a pro-abortions rights rally.
Our show at the Alhóndiga is a new kind of retrospective: everything was digitally printed in Bilbao and affixed directly on the walls and tables. No frames, no shipping!
The exhibition runs through January 6 2014.